Sebastiaan Zijp's Roast Pork Loin With Lentils And Corn Custard
Chef's Table: Bar Blanc Bistro's Recipe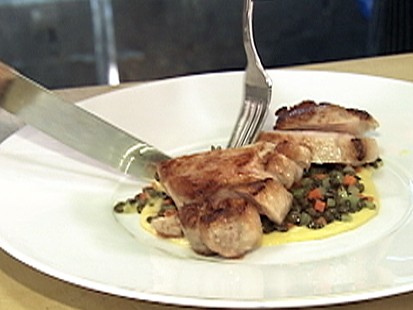 Bar Blanc Bistro chef Sebastiaan Zijp serves pork around hearty vegetables.
From the kitchen of Sebastiaan Zijp
Chef Sebastiaan Zijp shares a delicious recipe for a marinated pork loin with sauteed lentils and corn custard. A nice blend of flavors and textures to make any pork loin a standout!
Ingredients
For the Roast Pork loin with lentils and custard:
4 8 oz pieces pork loin, brined for three hours (recipe follows)
1 cup cooked de puy lentils with garnish (recipe follows)
1 cup corn "custard" (recipe follows)
2 tablespoons thyme wine syrup (recipe follows)
For the Brine:
4 cups water
0.5 cups brown sugar
0.5 cups kosher salt
2 bay leaves
5 sprigs thyme
10 toasted peppercorns
2 clove garlic, crushed
1 orange, sliced
For the Lentils:
1 box (500gr) de puy lentils
1 carrot, 1/2 inch rounds
1 onion, 1/2 inch diced
2 stalk celery, 1/2 inc diced
3 sprigs thyme,
1 bay leaf
5 cups chicken or pork stock
Pinch of salt and pepper
Lentil Garnish:
2 tablespoons carrot brunoise, blanched
2 tablespoons celery brunoise, blanched
2 tablespoons leek brunoise, blanched
For the Corn:
8 ears corn
4 tablespoons butter
For the Wine Syrup:
600gr white wine
100 grams sugar
5 sprigs thyme
Cooking Directions
For the Brine:
Heat all together and cool before use.
For the Lentils:
Heat a medium sized pan over medium heat. Add a little oil and sweat all the vegetables with a little salt till lightly caramelized. Add the lentils and toast them lightly in the oil for about one minute.
Wrap the bay and thyme in a little cheesecloth for easy removal. Add the chicken stock and cook the lentils till tender, about twenty minutes, spread on a sheet tray and cool.After the lentils have cooled a little, remove the large pieces of onion, garlic carrot, etc.
For the Corn:
Cut the kernels off the ear of corn and put through a juicer or blend with a little water in a food processor till smooth. Add all the juice to pot and heat, stirring the whole time to avoid any scorching. Reduce by one quarter then add the butter and continue to stir and reduce by half, if it isn't thick enough, mix 1 tbsp soft butter with 1 tbsp flour, and whish in to thicken, little bits at a time. Season with salt.
For the wine Syrup:
Combine all and reduce till syrup.
To Finish:
Heat a skillet to medium high heat and sear the pork loins really well on both sides, transfer to a 350 degree oven and roast till just medium, about twelve minutes, depending on how thick the loin is.
Heat the corn custard gently in a small sauce pot.
Place the cooked lentils with the brunoise vegetable garnish in another small sauce pot and add 2 tbsp chicken stock and 1 tbsp butter. Heat this and bring to a simmer, cook till the liquid is reduced and the lentils are glazed with the butter, careful not to break the butter glaze. Finish with a squirt of lemon, chopped chives and parsley.
Spread a circle of the corn custard on the plate, top with the lentils. Slice the pork loin and season with salt and pepper, and place on top of the lentils, drizzle all with the wine syrup.
Recipe Summary
Main Ingredients: pork loin, de puy lentils, corn on cob, wine syrup
Course: Dinner, Main Course, Vegetable