Sebastiaan Zijp's Dutch Butter Cake with Rhubarb and Strawberry Sorbet
Chef's Table: Bar Blanc Bistro's Recipe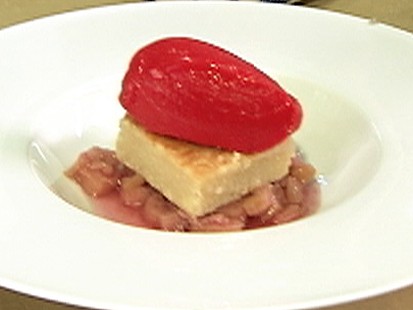 Bar Blanc Bistro chef Sebastiaan Zijp pulls together a fresh seasonal delight.
From the kitchen of Sebastiaan Zijp
Chef Sebastiaan Zijp sautees Summer Rhubarb and scoops up Sorbet into a sweet treat for dessert
Ingredients
For the Cake:
300 gr ap flour
250gr cold butter, cubed
200gr sugar
1 egg
Pinch of salt
For the Rhubarb:
1 kilo rhubarb, sliced quarter inch thick
1 liter water
300gr sugar
1 stalk lemongrass, crushed
Two sprigs thyme
One vanilla bean, split
For the Sorbet:
2 pints strawberries, cleaned and stemmed
200gr sugar
2 tbsp lemon juice
Cooking Directions
For the Cake:
Mix the flour and sugar and salt together and add the cubed butter. With your hands, break up the butter in the flour till it is all in tiny pieces. Beat the egg and add half to the flour butter mix and knead into a dough, do not over mix. Butter a baking dish well, and press the dough into the dish. Brush the top with the remaining egg and bake at 350 for about thirty minutes. When it is done, remove from the oven and, using the back of a spoon, beat down the cake till it feels dense and hard. Cool completely,
For the Rhubarb:
Put the lemongrass, the thyme and vanilla in a piece of cheese cloth. Combine everything in a deep baking pan and cover with tin foil. Place in a 300 degree oven and gently bake till the rhubarb id soft, about forty five minutes. Cool gently.
For the Sorbet:
Blend the strawberries in a blender till smooth and pas through a strainer to get the seeds. Add the sugar and lemon and check the taste, if it needs more sugar, add more, if it needs more lemon, add more. Freeze in an ice-cream machine, or in quarts and sin once frozen in a paco jet.
To Finish:
Cut the cake into portions, and place on in bottom of a shallow bowl, top with the rhubarb and some of the juice, then a scoop of the sorbet.
Recipe Summary
Main Ingredients: rhubarb, sorbet, strawberries, sugar, butter
Course: Dessert