Adam Perry Lang's Dressed Arugula
Recipe Courtesy of Adam Perry Lang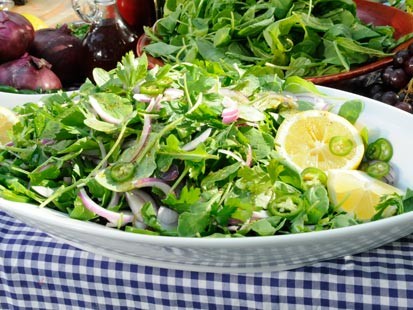 From the kitchen of Adam Perry Lang
What pickled ginger is to sushi, this zippy salad should be to barbecue. Tangy, well-dressed greens act as a foil for all that meaty richness. I like arugula's peppery bite and its body, which can stand up to lots of lemon juice without wilting. I usually just serve this in a bowl. -Adam Perry Lang
Ingredients
8 cups baby arugula
1/3 cup red onion, thinly sliced
1/4 cup parsley leaves, flat-leaf
1 lemon, juice of and zest (grated on a Microplane grater)
2 tablespoons extra virgin olive oil
1 tablespoon red wine vinegar
1 teaspoon serrano chile, thinly sliced (optional)
1/2 teaspoon fleur de sel (or sea salt)
1/2 teaspoon coarse black pepper, freshly ground
Cooking Directions
In a serving bowl, toss together the arugula, onion, and parsley.
In a small bowl, combine the lemon zest and juice, olive oil, vinegar, chile, if using, fleur de sel, and pepper.
Drizzle the dressing into the bowl of arugula and, using your hands, toss to coat the greens.
Serve immediately.
Recipe Summary
Main Ingredients: arugula, onion, parsley leaves, olive oil
Course: Salad, Appetizer/Starter, Lunch