Fabio Viviani's 'Naked Ravioli' With Brown Butter Sage Sauce
Top Chef Fan Favorite Heats Up the Kitchen With This Pasta Dish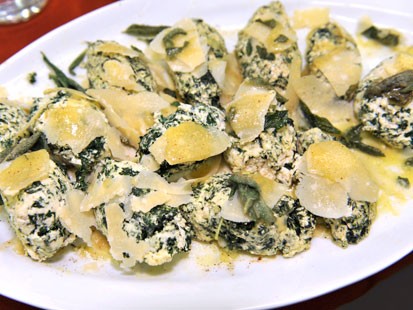 From the kitchen of Fabio Viviani
|
Fabio says this pasta dish is simple, yet rich. Recipe courtesy Fabio Viviani.
Ingredients
3 lbs. fresh baby spinach
1 tsp. baking soda
2 lbs. of fresh ricotta cheese
8 oz. parmesan cheese, grated
1 whole nutmeg, grated (or 2-3 tsp. ground nutmeg)
1 tsp fresh ground black pepper
2 eggs
1 Tbsp kosher salt
4 oz. parmesan cheese for topping
Cooking Directions
Bring a large pot of water to a boil and add the baking soda.
Add the spinach and let cook until it's completely wilted (about 4 minutes).
Strain the spinach, and then place in a clean kitchen towel to squeeze all of the water out. Place spinach on cutting board and chop. Not too big, but not completely minced.
In a separate bowl, mix the ricotta, parmesan, grated nutmeg, pepper, eggs, and salt until you have a uniform paste. Do not use a mixer or food processor -- you should use your hands.
Once ricotta mix is ready, add the chopped spinach and keep mixing until you have a uniform clump that's not too white, and not too green. You are welcome to add more spinach or ricotta to your taste. If it's still a bit wet, you can dust it with some flour, but only if you really need to.
Using two soup spoons, shape the mixture into quenelles (oval-shaped balls), and drop them on a sheet pan coated with non-stick spray.
Cook in the oven at 500 degrees for 5 minutes. Let rest for 2-3 minutes, then add to plates with a flat spatula. Be careful, as they are delicate and may fall apart.
Top each plate with Brown Butter Sage Sauce (CLICK HERE FOR RECIPE), and some nice shavings of parmesan cheese.
Other Recipes That You Might Like