Jon Bonnell's Gulf Shrimp and Crab Stuffed Avocado
Chef's Table: Bonnell's Fine Texas Cuisine Recipe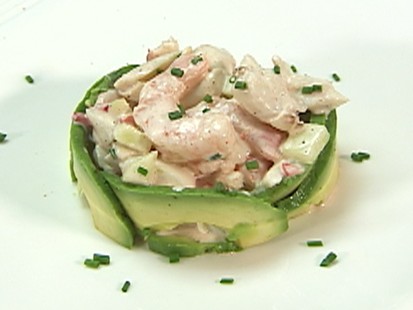 Chef Jon Bonnell makes a seafood stuffing that is sure to please.
From the kitchen of Jon Bonnell
|
Chef Jon Bonnell combines seafood with ripe avocados for a cool appetizer
Ingredients
For the Stuffed Avocado:
8 ounces jumbo lump fresh blue crabmeat
8 ounces baby shrimp, cooked
3 large ripe avocados
2 tablespoons mayo
1 lemon, juice only
1/2 teaspoon Creole seasoning blend
1 dash hot sauce
3 tablespoons red bell pepper, diced
2 tablespoons fresh chives, chopped
3 tablespoons cucumber, diced
1 pinch dry mustard powder
Cooking Directions
For the Shrimp and Crab Mix:
In a mixing bowl, combine all ingredients except for the crabmeat and avocado and mix well. Taste for seasonings and spice level. Adjust with extra hot sauce or a pinch more salt if your tastes buds prefer at this point. Pick through the crabmeat carefully to remove any excess shell pieces, but be sure not to break up the large lump pieces. Fold the crabmeat into the mixture at the last minute.
For the Avocado:
Cut the avocados in half and remove the seed. Scoop the avocados out of their skins with a large kitchen spoon, then slice them into thin strips.
to Plate:
Place a ring mold (or simply a piece of PVC pipe) in the center of a plate. Line the inside of the ring with overlapping slices of avocado. Spoon a large portion of the shrimp and crab salad into the middle, then carefully remove the ring by sliding it straight up. Garnish the plate with a little sprinkle of Creole seasoning blend and chopped chives and serve.
Recipe Summary
Main Ingredients: shrimp, crab, avocado, lime, mayo, creole seasoning, bell pepper, chives, cucumber, mustard powder
Course: Appetizer/Starter, Lunch, Dinner, Party Platter, Salad, Side Dish
More Info: Kids Friendly
Other Recipes That You Might Like