David Burke's Townhouse Sea Scallop Benedict with Potato Cakes
Chef's Table: David Burke Townhouse Recipe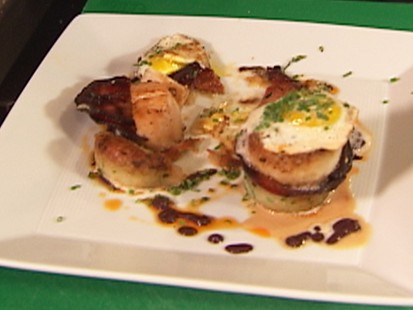 Chef David Burke updates eggs with a seafood benedict.
From the kitchen of David Burke
|
Chef David Burke layers hash, chorizo and scallops into seafood twist on the Benedict
Ingredients
For the Benedict:
4 large sea scallops, cut in ½ crosswise = 8 medallions
¼ lb. chorizo, sliced thin (½ thinly sliced, ½ to be used in oil recipe)
2 large baking potatoes, peeled
8 quail eggs
3 shallots, peeled
Chives, chopped
Black olive paste
Coarse or kosher salt
Ground pepper
Clarified butter
For the Sauce:
Chorizo Oil
½ cup canola oil
4T chorizo chopped
1 tsp garlic
1 tsp paprika
1 tsp sea salt
For the Foam:
¼ cup lobster stock, reduced
¼ skim milk
Cooking Directions
For the Benedict:
Place oil, chopped garlic, Scallops and Chorizo slices in a sauté pan on medium heat. Cook together until garlic is golden brown and let rest, strain.
For the Potato Pancakes:
Combine potatoes, shallots, and egg in a food processor and grate.
Spoon grated-potato mixture into a bowl and add salt and pepper. Heat clarified butter or olive oil in a large saute pan, preferably with a nonstick surface.
Spoon 2 or more tablespoons of potato mixture into pan for each pancake. The thickness and diameter of the pancake will depend on how they are to be used. Cook pancakes until golden brown, turning frequently.
For the Lobster Foam:
Combine ingredients and quickly whip in a blender. For a faster method, use an espresso foamer.
To Build Benedict:
Place two potato pancakes on each plate, top with chorizo, then sea scallops, then sunny side up quail egg on each scallop. Top with lobster foam and chopped chives. Circle the plate with the black olive puree and chorizo oil.
Other Recipes That You Might Like