Emeril's Signature Salad
Simplified Version of Salad Served at Emeril's Restaurant in New Orleans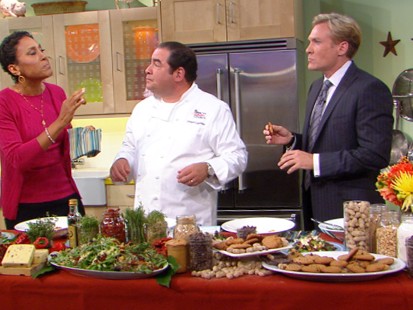 Emeril Lagasse offers some tasty recipes you can prepare for your next potluck.
From the kitchen of Emeril Lagasse
"This is a simplified version of the signature salad served at Emeril's Restaurant in New Orleans. It's been on the menu since day one. Try it and you'll see why folks keep asking for it after all these years."
-Emeril Lagasse
Ingredients
8 cups (about 4 ounces) assorted baby salad greens, loosely packed
1/2 cup (about 3 ounces) grated pepper jack cheese
1/4 teaspoon fresh rosemary, chopped
1/4 teaspoon fresh thyme, chopped
1/4 cup (about 2 ounces) whole oil-packed sundried tomatoes, drained and julienned
2 tablespoons balsamic vinegar
2 tablespoons extra-virgin olive oil
Salt and freshly ground black pepper
Simple croutons, recipe follows or store-bought croutons, for serving (optional)
4 tablespoons alfalfa sprouts or broccoli sprouts
Cooking Directions
Prep time: 8 minutes
Total timl: 8 minutes
1. To assemble the salad, place the greens, cheese, and chopped herbs in a large mixing bowl. Add the julienned sun dried tomatoes. Drizzle the balsamic vinegar and extra-virgin olive oil over the salad, and season with salt and pepper to taste. Toss to coat well.
2. Divide the salad equally among four salad plates. Place 4 or 5 croutons on each plate, and top each salad with 1 tablespoon of the sprouts. Serve immediately.
Recipe courtesy Emeril Lagasse, "Emeril 20-40-60" , HarperStudio Publishers, New York, 2009, courtesy Martha Stewart Living Omnimedia, Inc
Recipe Summary
Main Ingredients: salad greens, cheese, sun dried tomatoes
Course: Dinner, Lunch, Main Course, Party Platter, Salad, Appetizer/Starter