Soldier's Delight: Oatmeal Dark-Chocolate Chip Cookies
This Recipe Has an Extra Tablespoon of Patriotism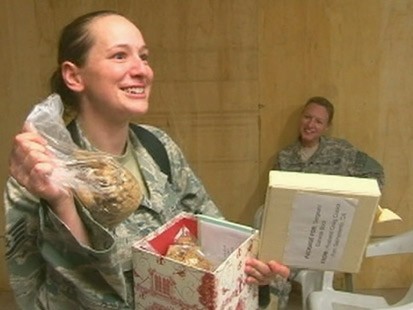 From the kitchen of Craig Cusick
|
Craig Cusick's wife, Sgt. Daneila Bock, is an Air Force medic stationed at FOB Finley-Sheilds in the Nangarhar province of Afghanistan.
Until she gets home, Craig decided to send just a little taste of what she'll be coming back to in the form of her (formerly) super secret Oatmeal Dark-Chocolate Chip Cookies.
Ingredients
2 sticks of unsalted butter, room temperature
1 1/2 cups flour
3 cups old fashioned oats, uncooked
1 teaspoon baking soda
1 pinch salt
1 cup Splenda Brown Sugar
1/2 cup Splenda Granulated Sugar
2 eggs
2 teaspoons vanilla extract
1 bag 60 percent Cacao Bittersweet Chocolate Chips (as many as you want, I use the whole bag)
Cooking Directions
Mix the butter, sugar, eggs , salt baking soda and vanilla.
Combine the oatmeal and the flour.
Mix it all up and add the chocolate chips.
Make golf ball size cookies and bake at 350 degrees for 10 or so.
Other Recipes That You Might Like