Miranda Walters' Caramel Pecan Apple Pie
Drizzled With Caramel Sauce, This Pie Is Perfect for Bake Sales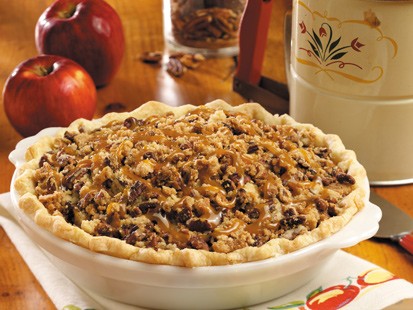 From the kitchen of Miranda Walters
Miranda Walters baked up a storm for kids in malaria infected regions of Africa and raised money to buy mosquito nets.
This recipe appears in the "The Taste of Home Cookbook: Cooks Who Care Edition."
Ingredients
7 cups tart apples, sliced and peeled
1 teaspoon lemon juice
1 teaspoon vanilla extract
3/4 cup pecans, chopped
1/3 cup brown sugar, packed
3 tablespoons sugar
4-1/2 teaspoons cinnamon, ground
1 tablespoon cornstarch
1/4 cup caramel ice-cream topping, room temperature
1 pastry shell, unbaked (9 inches)
3 tablespoons butter, melted
For Streusel Topping:
3/4 cup flour, all-purpose
2/3 cup pecans, chopped
1/4 cup sugar
6 tablespoons butter, cold
1/4 cup caramel ice-cream topping, room temperature
Cooking Directions
In a large bowl, toss apples with lemon juice and vanilla.
Combine the pecans, sugars, cinnamon and cornstarch; add to apple mixture and toss to coat.
Pour caramel topping over bottom of pastry shell; top with apple mixture (shell will be full). Drizzle with butter.
In a small bowl, combine the flour, pecans and sugar. Cut in butter until mixture resembles coarse crumbs. Sprinkle over filling.
Bake at 350° for 55-65 minutes or until filling is bubbly and topping is browned.
Immediately drizzle with caramel topping. Cool on a wire rack.
Recipe Summary
Main Ingredients: apples, pecans, caramel ice-cream topping, butter, flour
Course: Dessert