Emeril Lagasse's Gluten-Free Whoopi Soup
The Chef's Soup Is Perfect for a Crisp Autumn Day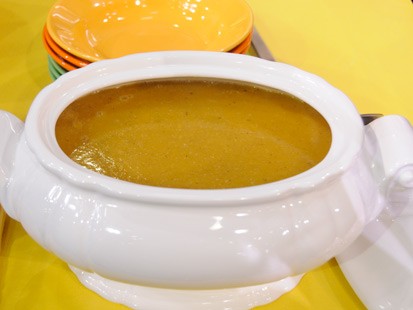 From the kitchen of Emeril Lagasse
|
Whoopi Soup was chosen as one of the three final dishes in the "Come Together" campaign, urging people to have dinner parties and donate money to Feeding America, which feeds hungry Americans. "Good Morning America" and Macy's were also part of the project.
CLICK HERE to learn more about "Come Together."
Ingredients
2 tbsp olive oil
1 cup onion, chopped
1 1/2 tsp salt
1 tsp dried sage
1/2 tsp nutmeg
1/4 tsp cinnamon
1/4 tsp allspice
1 quart water
1 quart chicken stock
1 medium butternut squash, peeled, seeded and chopped into 1-2 inch pieces
3 granny smith apples, peeled, cored, and chopped into ½ inch pieces
1/2 cup light brown sugar
3 tbsp water
1 tbsp corn starch
Juice from half a lemon
3 tbsp whole milk or heavy cream
Cooking Directions
Heat olive oil in a large stockpot over high heat.
Add onion, salt, pepper, sage, nutmeg, cinnamon, and allspice.
Saute onions, stirring often, until softened, about 2 minutes. Add butternut squash and apples.
Toss to combine, and let cook for about 3 minutes. Add water, chicken stock and brown sugar.
Bring to a boil, reduce heat, cover, and let simmer for 25 – 30 minutes.
Puree with an immersion blender or in small batches in a food processor. BE CAREFUL WHEN BLENDING HOT LIQUIDS.
Return all liquid to pot, if using food processor.
Combine 3 tbsp of water and corn starch in a small bowl, to create a slurry.
Make sure there are no lumps. Add to pureed soup, as needed, depending on your desired thickness.
Other Recipes That You Might Like