Su-Mei Yu's Long Life Chicken Broth
Winter Comfort in Chicken Broth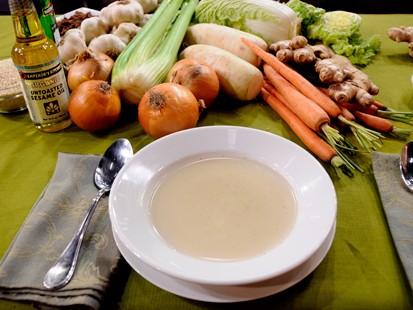 From the kitchen of Su-Mei Yu
"Like many cultures, Thais consider chicken broth to be a highly nutritious food. Given to the sick, young, and elderly as a healing remedy, chicken broth is also used as an ingredient in many recipes or as a base when making soup or porridge. Chicken broth is good for all home elements. Although there is no match for homemade chicken broth, for convenience substitute low-sodium, low-fat canned or boxed chicken broth. Taste before using, then adjust seasonings called for in the recipes accordingly."
-- Su-Mei Yu, author of "The Elements of Life."
Ingredients
One 3 1/2- to 4-pound chicken
10 cups water
1 teaspoon salt
2 tablespoons dry vermouth or Chinese cooking wine
One 9-inch daikon, peeled and cut into several pieces
1 onion, peeled
2 star anise
5 to 6 thin slices fresh ginger
Cooking Directions
Put the chicken in a large pot and cover with water. Bring to a boil. Remove from the heat and strain the chicken through a strainer. Discard the water. This step will get rid of the scum and other solids, resulting in a clear broth with a clean taste. Wash the saucepan before returning the chicken to it. Add the 10 cups water and the remaining ingredients. Bring to a boil, then reduce the heat to low, cover, and let simmer for at least 1 hour.
Remove from the heat and let cool before straining the broth. Save the chicken for another recipe. Transfer the broth to a tightly covered container and refrigerate overnight.
The fat will congeal on the surface of the broth and can be scooped off. Chicken broth will keep, refrigerated, for 3 to 4 days, or in the freezer for 2 to 3 months. To freeze, measure the broth in 2- to 4-cup portions into plastic zip-top bags, set them on a baking sheet, and place in the freezer until frozen. Now you can store them stacked on one another. Make sure to date your bags.
Makes about 10 cups.
Recipe Summary
Main Ingredients: chicken, ginger, star anise
Course: Dinner, Lunch