Marinated Pazzo Berries with Balsamic Vinegar
From Chef's Table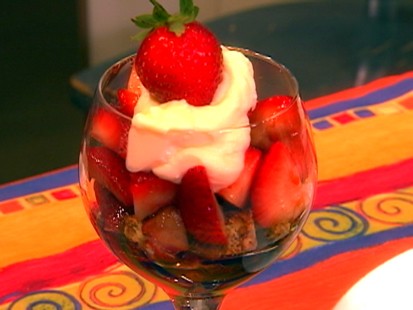 Chef Michael Chiarello makes berries crazy with a balsamic twist.
From the kitchen of Michael Chiarello
|
Michael Chiarello is an award-winning chef, Emmy-winning Food Network host, "Top Chef Masters" finalist, tastemaker behind the NapaStyle retail company, highly rated vintner and noted cookbook author. Throughout his career, Michael has combined his Southern Italian roots with Napa Valley living to pioneer culinary and lifestyle trends.
Michael incorporates his personal passion for seasonal, sustainable living, into all that he does. From the growers that he supports as chef and owner of Bottega Napa Valley and his product designs for NapaStyle, to his earth-friendly farming practices for his vineyards and the storylines for his Emmy-winning Food Network show, Michael shares his unique perspective on what comprises good food and healthy living in an old-world lifestyle.
Based in the Napa Valley, Michael lives among his vineyards with his wife, children and golden retriever.
His book "At Home With Michael Chiarello" is featured.
Ingredients
2 cups strawberries, stemmed and quartered
6 tablespoons balsamic vinegar
1/2 cup superfine sugar
6 large Italian biscotti, broken into small pieces
4 ounces mascarpone cheese, stirred to a smooth consistency
Sea salt, preferably gray salt, and freshly ground black pepper
Cooking Directions
Place the strawberries in a bowl.
In a small bowl, whisk together the vinegar, sugar, salt and pepper. Let stand for 15 minutes, stirring occasionally to completely dissolve the sugar.
Pour the marinade over the berries and gently toss to coat.
Divide the biscotti pieces into 4 bowls. Spoon the berries and some of the marinade over each and top with a dollop of mascarpone. Serve immediately.
Other Recipes That You Might Like