Recipe: Rachael Ray's Wingless Buffalo Chicken Pizza
Two Favorite Foods Rolled Into One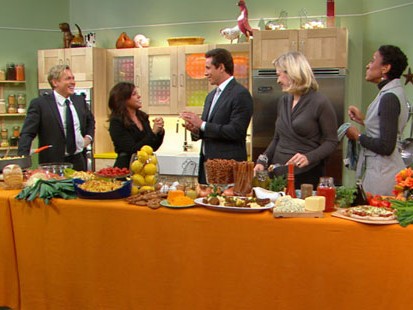 The cook prepares a BLT pasta bake from her latest cookbook.
From the kitchen of Rachael Ray
|
"I am always trying to make the foods that are bad for my figure less of a guilty pleasure. Case in point: Buffalo chicken wings. The chicken here is all white meat; it's not fried; and as an added attraction, it's sitting on top of a pizza. Put a game on or pop a movie in and enjoy. Wings away!"
-- Rachael Ray
Courtesy of Rachael Ray's Book of 10.
Ingredients
3/4 pound chicken breast cutlets
EVOO (extra-virgin olive oil), for drizzling
2 teaspoons grill seasoning, such as McCormick's Montreal Steak Seasoning
1 pizza dough, store-bought or from your favorite pizzeria
Cornmeal or flour, for dusting
2 tablespoons butter
1 tablespoon Worcestershire sauce
2 to 3 tablespoons hot sauce, to taste
1/2 cup tomato sauce
1 cup shredded Monterey Jack cheese, 4 generous handfuls
1/2 cup crumbled blue cheese
3 scallions, thinly sliced
Cooking Directions
Preheat the oven to 425°F. Preheat a grill pan over high heat.
Place the chicken on a plate and drizzle with EVOO. Season it with the grill seasoning. When the grill pan is hot, cook the chicken for about 3 minutes on each side, until it is cooked through.
Stretch the dough to form a pizza, using cornmeal or flour to help you handle it. If you let it rest and warm up for a few minutes, it will handle more easily. Set the pizza on a pizza pan to the side.
In a medium skillet over medium heat, melt the butter and stir in the Worcestershire, hot sauce, and tomato sauce.
Remove the chicken from the grill pan and slice it thin. Add the chicken to the sauce and stir to coat. Cover the pizza dough with the saucy Buffalo chicken, cheeses, and scallions. Bake for 18 minutes, or until crisp.
Courtesy of Rachael Ray's Book of 10.
Other Recipes That You Might Like