Tiny Meatballs and Tortellini with Broccoli Rabe
In the Mood for Pasta? Try This!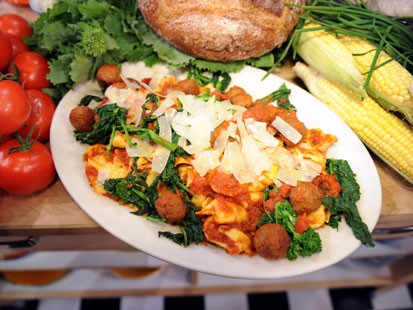 From the kitchen of Rocco DiSpirito
|
"Yes, I am using frozen prepared meatballs in this recipe. Please don't tell my mom!"
-- Rocco DiSpirito
CLICK HERE to follow Rocco on Twitter!
Ingredients
1 pound frozen mini meatballs
Salt and freshly ground pepper
2 13.5-ounce pouches Bertolli Premium Summer Crushed Tomato & Basil Pasta Sauce (about 3 cups)
1 16-ounce package cheese tortellini
1 bunch broccoli rabe, roughly chopped
1/3 cup fresh chopped basil
1 cup freshly grated Parmigiano-Reggiano cheese
Cooking Directions
Bring a large pot of salted water to a boil. Meanwhile, microwave meatballs in a large bowl until hot, according to package instructions. Add pasta sauce to bowl, cover with plastic and continue to microwave until sauce is hot, about 3 more minutes.
Meanwhile, cook the tortellini according to package instructions. About halfway through the cooking time, add broccoli rabe to the water. Continue to cook until tortellini are done and broccoli rabe is tender -- about 3 minutes. Drain.
Toss tortellini and broccoli rabe with the meatballs, sauce, and basil.
Top with cheese and serve.
Courtesy Rocco Gets Real @2008
Other Recipes That You Might Like