Roasted Pumpkin Seeds
A Mouthwatering Recipe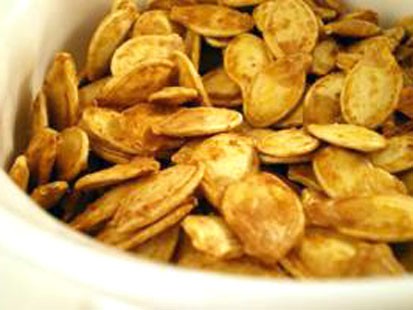 From the kitchen of IrishCentral.com
Here's an easy and delicious recipe for roasted pumpkin seeds. It's a great snack to munch on while watching football, or your favorite television program.
For more great Irish food and drink articles,click here.
Ingredients
3 1/2 oz pumpkin seeds
1/4 tsp celery salt
1/4 tsp salt
1/4 tsp freshly ground black pepper
1/4 tsp paprika
1 tsp vegetable oil
Cooking Directions
Heat a frying pan.
Brush with a very small amount of oil, and then add the pumpkin seeds.
They will expand and brown fairly quickly.
When this is done, place them in a bowl and add the salt, celery salt, freshly ground black pepper and paprika.
Recipe Summary
Main Ingredients: pumpkin seeds
Course: Snack