Guinness and Bailey Irish Cupcakes
A Mouthwatering Recipe for St. Patrick's Day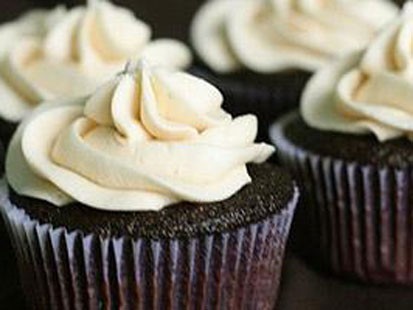 From the kitchen of IrishCentral.com
|
Here's a simple, delicious recipe for Irish cupcakes. With their lively mix of Guinness and Baileys just one taste will tell you that they're a little triumph of the cake makers art.
For more great Irish food and drink articles,click here.
Ingredients
1 cup stout (Guinness)
16 tbsp. unsalted butter
3/4 cup unsweetened cocoa powder
2 cups all-purpose flour
2 cups sugar
11/2 tsp. baking soda
3/4 tsp. salt
2 large eggs
2/3 cup sour cream
For the Baileys ganache filling:
8 oz. bittersweet chocolate, finely chopped
2/3 cup heavy cream
2 tbsp. butter, at room temperature
2 tsp. Baileys Irish cream
For the Baileys butter cream frosting:
8 tbsp. unsalted butter, at room temperature
3-4 cups confectioners' sugar, sifted
4-8 tbsp. Bailey's Irish cream
Cooking Directions
Preheat the oven to 350° F. Line two cupcake pans with paper liners. Combine the stout and butter in a medium saucepan over medium heat. Add the cocoa powder and whisk until smooth. Remove from the heat and allow to cool slightly. In a large mixing bowl, combine the flour, sugar, baking soda and salt. In the bowl of an electric mixer fitted with the paddle attachment, beat together the eggs and sour cream to blend. Add the stout-butter mixture and beat just to combine. Mix in the dry ingredients on low speed just until incorporated.
Divide the batter evenly between the cupcake liners, filling them about 2/3 to 3/4 full. Bake until a toothpick inserted in the center comes out clean, about 17 minutes. Allow to cool in the pan for 5-10 minutes, then transfer to a wire rack to cool completely. To make the ganache filling, place the chocolate in a heatproof bowl.
Heat the cream in a small saucepan until simmering, then pour it over the chocolate. Let sit for one minute and then whisk until smooth. If the chocolate is not completely melted, place the bowl over a double boiler or give it a very short burst in the microwave (15-20 seconds). Add the butter and Baileys and stir until combined. Set aside to let the ganache cool until it is thick enough to be piped. Pipe the ganache and enjoy.
Other Recipes That You Might Like