Emeril's Brussels Sprout and Cheddar Cheese Bake
Emeril Kicks Up Brussels Sprouts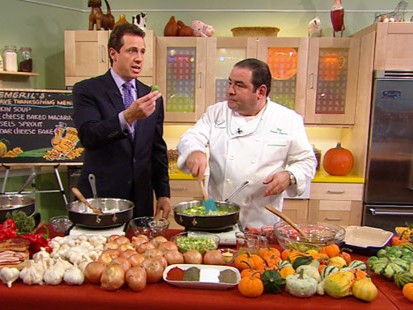 The chef prepares pumpkin soup, macaroni and brussel sprouts.
From the kitchen of Emeril Lagasse
Only Emeril Lagasse can think of such a tasty way to make brussels sprouts! This dish will be a nice touch to your Thanksgiving Day table.
Ingredients
4 slices thick-cut apple smoked bacon, diced
1 cup onion, small diced
2 cloves garlic, minced
3 tablespoons unsalted butter
1 pound Brussels sprouts, thinly sliced lengthwise (about 1/8-inch)
1 teaspoon chopped fresh thyme
1/4 cup chicken stock or water
1/2 teaspoon cayenne pepper
1/4 teaspoon salt
1/4 teaspoon freshly ground black pepper
1 cup shredded sharp cheddar
Cooking Directions
Preheat the oven to 450 degrees F.
In a 12" saute pan over medium high heat, render the bacon until crisp and golden, about 8 minutes. Remove the bacon from the pan using a slotted spoon to a heat proof bowl. Add the onions to the pan and cook for 4 minutes or until wilted and beginning to caramelize. Add the garlic to the pan and cook for another 2 minutes, stirring occasionally. Remove the onions and garlic from the pan to the same bowl with the bacon.
Add 1 1/2 tablespoons of butter to the pan along with half the Brussels sprouts and 1/2 teaspoon thyme. Cook the sprouts for 2 to 3 minutes on one side or until they begin to brown. Add 1/2 the chicken stock, 1/4 teaspoon cayenne pepper, 1/8 teaspoon salt, 1/8 teaspoon pepper. Flip the Brussels sprouts and continue to cook for another minute. Remove them from the pan to the bowl with the bacon and onions.
Add the remaining 1 1/2 tablespoons of butter and cook the remaining Brussels sprouts in the same way, adding the remaining 1/8 cup of stock after they've browned, and seasoning them with the remaining 1/8 teaspoon salt and 1/8 teaspoon pepper.
Toss all of the Brussels sprouts with the bacon and onions. Pour the mixture into a 10 by 6 inch baking dish.
Sprinkle the top of the dish with the cheese and bake for 20 minutes, or until the cheese is melted and beginning to brown on top. Serve immediately.
Yield: 4 to 6 servings
Recipe courtesy Emeril Lagasse, courtesy Martha Stewart Living Omnimedia, Inc
Recipe Summary
Main Ingredients: brussel sprouts, bacon, cheddar cheese
Course: Side Dish, Casserole, Brunch