Pappardella's Diabetes-Friendly Zuppa de Pesci
Delicious Pasta for Diabetics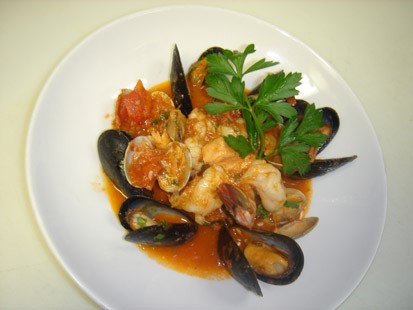 From the kitchen of Pappardella's Restaurant, NYC
It can be hard to keep meals delicious when tied down by the limitations of diabetes. This scrumptious recipe can be enjoyed by diabetics who want to spice up their meals, or even the entire family.
Ingredients
4 oz. salmon
3 medium clams
3 pei mussels
3 medium shrimp
1/4 cup white wine
1 cup tomato sauce (below)
Tomato sauce
1 can whole tomatoes, no salt added
20 grams Spanish onion
10 grams garlic
10 grams basil
1 tsp oregano
2 tsp salt
1 tsp pepper
5 tbsp olive oil
Makes 15 cups
Cooking Directions
Sautee Spanish onion and garlic in olive oil on low heat. Add the whole tomatoes and stew on low heat for 45 minutes. Puree the stew and season with salt, pepper, fresh basil and oregano. For the seafood, season the salmon filet with salt and pepper. In a small pan, heat 1 cup of tomato sauce and 1/4 cup of white wine. Put the salmon filet in the sauce and cook on low heat with a lid on for 5 minutes. Add the clams, mussels and shrimp, put the lid on and cook another 5 minutes or until all clams and mussels have opened. Pour the soup with the fish and seafood in a shallow plates, garnish with parsley!
Recipe Summary
Main Ingredients: salmon, clam, tomato
Course: Lunch, Dinner, Pasta
More Info: Diabetic