Wild Rice, Sausage and Apple Stuffing
You Say Stuffing, I Say Dressing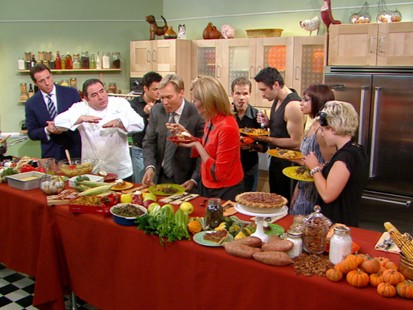 Chef Emeril Lagasse prepares his must-have Thanksgiving menu.
From the kitchen of Emeril Lagasse
Whether you say dressing or stuffing, this wild rice, sausage and apple stuffing is sure to be a hit at your Thanksgiving table.
Ingredients
1 cup wild rice
3 cups water
1 1/2 teaspoons kosher salt
2 tablespoons unsalted butter
1 medium onion, chopped
1 cooking apple, such as a Golden Delicious, Gravenstein, or Rome, peeled, cored, and chopped
2 ribs celery with leaves, chopped
2 cloves garlic, chopped
1 tablespoon minced fresh thyme leaves
Pinch ground mace or nutmeg
Freshly ground black pepper
1/2 pound fresh Italian-style turkey or pork sausage, casings removed
1/2 cup lightly toasted pecan pieces
1/4 cup chopped fresh flat-leaf parsley
Cooking Directions
Combine the wild rice, water, and 1/2 teaspoon of the salt in a medium saucepan and bring to a boil. Reduce heat to low, cover, and simmer until the rice is tender and just bursting, about 30 minutes. (Cooking time may vary depending on the brand of rice used.) Drain and set aside.
Preheat the oven to 325 degrees F.
Melt the butter in a large skillet over medium-high heat.
Add the onion, apple, celery, garlic, thyme, mace, remaining 1 teaspoon salt and pepper, to taste. Cook until the vegetables soften, about 5 minutes.
Stir in sausage, breaking it up with a wooden spoon and cook until it loses its rosy color, but not so much that it's dry, about 5 minutes more.
Stir in the cooked wild rice, pecans, and parsley into the vegetable mixture. (This can be made the day before.)
Turn mixture into a 8 or 9-inch square baking dish, cover with aluminum foil, and bake until heated through, 25 to 30 minutes.
Makes 8 servings (based on 2/3 cup per serving)
Recipe courtesy Emeril Lagasse, courtesy Martha Stewart Living Omnimedia, Inc.
Recipe Summary
Main Ingredients: wild rice, sausage, apple
Course: Side Dish, Party Platter