Sweet Potato Turkey Bowl
A Hearty Dish, Perfect for The Holidays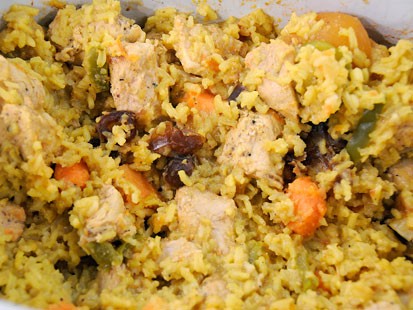 From the kitchen of Sandra Lee
Sandra Lee's sweet potato turkey bowl recipe is a foolproof idea for a holiday gathering. During the busy holiday season, this is a great idea for a slow cooker.
Ingredients
Canola oil cooking spray, PAM
3 1/4 cups chicken broth
2 packets yellow saffron rice (5 ounces each)
2 tablespoons lemon juice
2 teaspoons chopped garlic
2 pounds boneless skinless turkey breast, cut into bite-size pieces
1 tablespoon lemon-and-herb seasoning
1 can apricot halves in juice (15-ounce), drained
1 bag cut sweet potatoes (8-ounce)
1 cup frozen pepper strips
1 small red onion, chopped
1/3 cup chopped pitted dates
2 teaspoons garam masala
1 teaspoon ground ginger
Cooking Directions
Prep 15 minutes
Coat a 5-quart slow cooker with cooking spray. In prepared slow cooker, stir together chicken broth, rice, lemon juice, and garlic until combined. Sprinkle turkey pieces with lemon-and-herb seasoning; add to slow cooker
In a large bowl, stir together apricot halves, sweet potatoes, pepper strips, onion, dates, garam masala, and ginger until combined. Pour over turkey in slow cooker.
Cover and cook on Low heat setting for 3 1/2 to 4 1/2 hours.
To serve, ladle into shallow bowls.
Recipe excerpted from " target="external">Sandra Lee Semi-Homemade Money-Saving Slow Cooking Copyright © 2009 Sandra Lee Semi-Homemade
Please click here for more information about Champions Against Child Hunger.
Recipe Summary
Main Ingredients: sweet potatoes, turkey, rice
Course: Main Course, Party Platter, Brunch