Easy Fresh Cranberry Sauce
Sara Moulton's Tasty Cranberry Sauce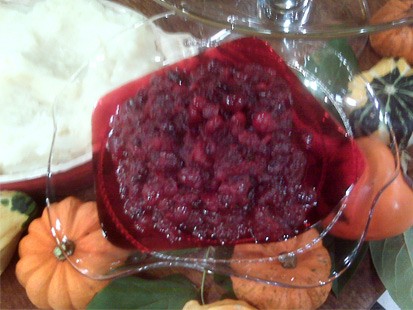 From the kitchen of Sara Moulton
This refreshing cranberry sauce can be made on Thanksgiving Day. That is how easy it is!
Ingredients
1/2 cup water
1/2 cup fresh orange, tangerine, or clementine juice
3/4 to 1 cup sugar or to taste
12-ounce bag fresh or frozen cranberries (3 cups)
1 teaspoon freshly grated orange rind
Cooking Directions
Bring water, orange juice and sugar to a boil, stirring until sugar is dissolved.
Add cranberries and simmer, stirring occasionally, until berries just pop, 12 to 15 minutes.
Stir in zest, then cool to room temperature and chill.
Makes about 2 1/2 cups.
Recipe Summary
Main Ingredients: cranberries, oranges
Course: Side Dish