Smoked Shrimp Garganelli with Pancetta, Arugula and Cranberry Beans
From Oceana to Your Dinner Table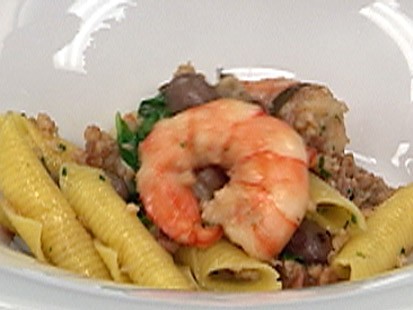 Oceana chef Ben Pollinger creates a seafood pasta, Old World style.
From the kitchen of Ben Pollinger
Ingredients
For the cranberry beans
2 quarts raw fresh shelled beans
3 quarts chicken stock
1 small onion cut in half
1 carrot cut in half length wise
1 celery stalk cut in half
1 sprig rosemary
For the ragout
Extra virgin olive oil
20 medium shallots, sliced thin
10 cloves garlic, sliced thin
1 chilies, sliced thin
2 tbs whole fennel seed, ground medium fine
Smoked ground shrimp (50 pieces)
1 quart cranberry beans in liquid
1 1/2 quarts chicken stock
Cooking Directions
To smoke the shrimp
Soak wood chips for 20 minutes, set smoker to 83 degrees and let oven fill with smoke. Place the ground shrimp in an even layer in a 2 inch half hotel pan over a 4 inch half hotel pan filled with ice. Smoke for 13 minutes. Process is the same for the whole shrimp.
For the cranberry beans
Bring all ingredients to a simmer, reduce heat and cook until beans are soft. Season with salt after cooked. Cool down in their liquid
For the ragout
In EVOO sweat the shallots, garlic and chili until a LIGHT golden brown. Add the fennel seed and toast until aromatic.
Add ground smoked shrimp and cook, breaking up large pieces with the spatula. Add the cooked cranberry beans in liquid, and chicken stock. Bring to a simmer and cook for 2 minutes. Cool.
For the pancetta
Slice the pancetta thin on the slicer. Cut into 1 inch squares. Render the pancetta over medium high heat lightly until just cooked. Drain.
For the pickup
EVOO
Whole shrimp, 3 for app, 5 for main course
Chicken stock
Ragout
Parcooked pasta
Butter
Wild arugula
Chives
Rendered pancetta
Saute the whole shrimp in EVOO. Add 2 ounces chicken stock and 2 Kunz spoons of ragout. Add parcooked pasta and cook for 1 minute. Finish with a touch of butter, wild arugula, chives and rendered pancetta.
Recipe Summary
Main Ingredients: shrimp, cranberry beans, pancetta, arugula
Course: Appetizer/Starter, Dinner, Brunch, Main Course, Party Platter, Side Dish