Crispy Pan-Roasted Chicken with Garlic-Thyme Butter
Emeril Makes Chicken Easy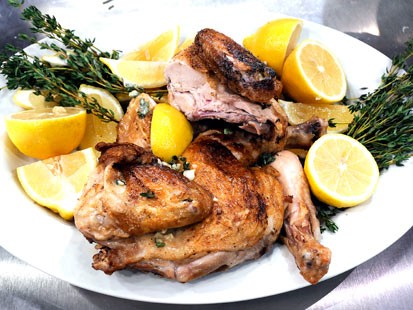 From the kitchen of Emeril Lagasse
During the busy holiday season, sometimes getting dinner on the table can be a challenge. Enter Emeril with a recipe for Crispy Pan-Roasted Chicken with Garlic-Thyme Butter that goes great with a side of bacon braised green beans.
Ingredients
One 3 1/2- pound chicken, halved, with the breastbone, backbone and first two digits (tips) of the wings removed
1 tablespoon kosher salt
1 1/2 teaspoons freshly ground white pepper
4 teaspoons olive oil
2 tablespoons unsalted butter, at room temperature
1 teaspoon minced garlic
1 teaspoon fresh thyme leaves
Cooking Directions
Preheat the oven to 400°F.
Season the chicken halves on both sides with the salt and white pepper. Set a 12-inch cast-iron skillet over high heat, and when it is hot, add the olive oil. Swirl the skillet to coat it evenly, and then lay the seasoned chicken halves, skin side down, in the skillet. Sear until golden, about 3 minutes.
Transfer the skillet to the oven and roast until the chicken is nearly cooked through and the skin is crispy, about 17 minutes. Turn the chicken over and continue to roast, skin side up, until it is cooked through, 3 to 5 minutes.
While the chicken is roasting, combine the butter with the garlic and thyme in a small bowl, and stir well to blend.
As soon as the chicken is removed from the oven, spread the garlic butter over the skin and serve immediately.
* Recipe courtesy Emeril Lagasse, Emeril's 20-40-60, Harper Studio Publisher, New York, 2009, courtesy MSLO, Inc.
Recipe Summary
Main Ingredients: chicken, garlic, butter, thyme
Course: Dinner, Brunch, Lunch, Main Course