Apple Rice Pilaf With Crispy Apple Topping
An 'Iron Chef' Inspired Dish Built Around Apples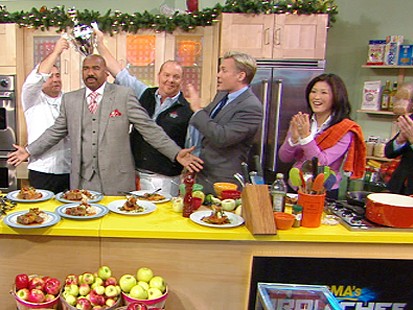 The two famous chefs reveal their final dishes using secret ingredient, apples.
From the kitchen of EMERIL LAGASSE
|
Ingredients
FOR PILAF:
1/4 cup olive oil
1 yellow onion, diced
1 Golden Delicious apple, peeled, cored and diced
2 cups white rice
2 cups chicken stock
1 cup water
3/4 cup apple cider
2 Pink Lady Apples, peeled, cored and diced
1/4 cup chopped flat-leaf parsley
1 tsp. salt
FOR CRISPY APPLE TOPPING:
4 Granny Smith apples, peeled, cored, and quartered
1 stick plus 2 Tbsps. unsalted butter, divided
1 cup light brown sugar, divided (1/2 cup each)
2 tsps. cinnamon
1/2 tsp. nutmeg
2 cups corn flakes
Cooking Directions
For Pilaf:
Add olive oil to a large saucepan with a tight-fitting lid over medium-high heat. Add onion and diced Golden Delicious apple and saute until just barely softened. Add rice, chicken stock, water, and apple cider. Cover and bring to a boil. After rice has boiled for 10 minutes, add diced Pink Lady apples and continue to boil for another 10 minutes. Fluff rice with a fork and toss with salt and parsley.
For Topping:
Preheat oven to 400 degrees F.
Divide stick of butter into chunks and evenly distribute in a 13x9 inch baking dish with apples. Sprinkle with 1/2 cup of brown sugar and put in preheated oven. Bake until apples are caramelized and golden brown -- about 5 to 10 minutes.
In a large bowl, combine the remaining ingredients and mix together until butter is evenly distributed.
Remove apples from oven and top with corn flake mixture. Return to oven and bake until topping is browned and crispy --about 5 minutes. Watch carefully, so it does not burn. Serve crispy apples on top of a bed of rice pilaf.
Other Recipes That You Might Like