Mario Batali's Pork Loin
An 'Iron Chef' Inspired Dish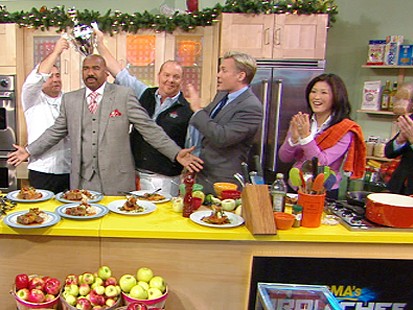 The two famous chefs reveal their final dishes using secret ingredient, apples.
From the kitchen of MARIO BATALI
|
Ingredients
Pork:
3 tbsp. olive oil
1 one-pound pork tenderloin, well trimmed
1/2 cup light brown sugar
2 tbsp. cumin
1.2 tsp. salt
1/4 tsp. finely ground pepper
Garnish for Pork:
1 lemon, zested
1 orange, zested
1/8 tsp. cayenne pepper
1 tbsp. confectioner's sugar, combined in a sifter
Cooking Directions
In a 9x13 inch glass baking dish, combine brown sugar, cumin, salt and pepper. Coat pork with sugar mixture evenly and drizzle with 1 tablespoon of the olive oil. In a 9-inch cast iron grill pan, heat 2 tablespoons olive oil and when the pan is smoking, add the pork to it. Cook while you prep the rest of the dish. Turn to the other side after it gets grill marks from the griddle. This should take about 12 minutes, per side. Cook until internal temperature is 160. Season with salt and pepper, after you turn pork. Then put on a cutting board and let it rest, while you make the rest of the dish.
Serve With:
Cider Jalapeno Gastrique: Click Here for Recipe
Apple Fritters: Click Here for Recipe
Apple Puree: Click Here for Recipe
Sauteed Apples With Balsalmic Vinaigrette: Click Here for Recipe
Parsley Vinaigrette: Click Here for Recipe
Other Recipes That You Might Like