Cider Jalapeno Gastrique
An 'Iron Chef' Inspired Dish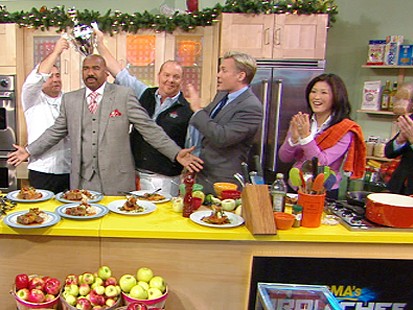 The two famous chefs reveal their final dishes using secret ingredient, apples.
From the kitchen of MARIO BATALI
Ingredients
1 jalapeno, julienned
3 cups apple cider, sliced thin
1/2 cup apple cider vinegar
1/2 cup chopped onion
1/2 cup sugar
3 apples
1 tsp. paprika
2 tbsp. olive oil
1/2 tsp. salt
1/2 tsp. pepper
Cooking Directions
In a two quart pot, add all the ingredients, except the olive oil. Bring to a boil and reduce by half until mixture is a syrupy consistency (about 20 minutes). Let cool for 10 minutes and then whisk in olive oil.
Recipe Summary
Main Ingredients: apples, jalapeno peppers
Course: Sauces and marinades