Mario Batali's Apple Fritters
An 'Iron Chef' Inspired Dish Featuring Apples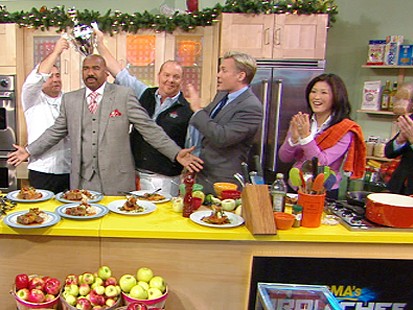 The two famous chefs reveal their final dishes using secret ingredient, apples.
From the kitchen of MARIO BATALI
Ingredients
1 quart vegetable oil
2 Granny Smith apples, peeled and cored and sliced into 1 inch thick rings
1 cup buttermilk
1 tbsp. baking powder
2 eggs
1 cup flour
1/4 tsp. salt
14 tsp. pepper
Garnish:
1/8 tsp. cayenne pepper
1 tbsp. confectioner's sugar
Cooking Directions
Over medium-high heat, heat a four quart pot with vegetable oil to 350 degrees. In a large bowl, whisk the eggs and add the buttermilk, in a steady stream whisking all the while. In another bowl, sift flour, baking powder, salt and pepper. Slowly add the buttermilk mixture to the flour mixture until smooth and it coats the back of a metal spoon. In a separate bowl, combine the cayenne pepper and confectioner's sugar. Dip sliced apple rounds in batter and fry until golden brown on both sides. Put apples on paper towels on a sheet pan to absorb the oil. Sift cayenne pepper and confectioner's sugar evenly over fritters.
Recipe Summary
Main Ingredients: apples, buttermilk, eggs
Course: Sauces and marinades, Breakfast, Brunch, Lunch, Dinner, Side Dish