Apple Puree
An 'Iron Chef' Inspired Dish Featuring Apples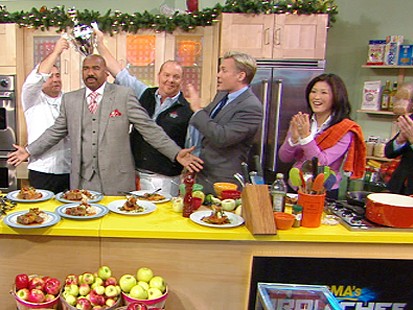 The two famous chefs reveal their final dishes using secret ingredient, apples.
From the kitchen of MARIO BATALI
Ingredients
2 tbsp. olive oil
1/4 cup finely chopped onions
2 gala apples, peeled and cored and sliced thin
1/4 tsp. salt
1 tsp. cinnamon
Cooking Directions
Add olive oil to a small frying pan over high heat. Add onions and sauté until softened. Add apples, salt and cinnamon and cook until apples are softened. When apples are tender, puree in food processor. Set aside in a bowl.
Recipe Summary
Main Ingredients: olive oil, apples, cinnamon
Course: Sauces and marinades, Breakfast, Brunch, Lunch, Dinner, Side Dish