Mario Batali's Sauteed Apples
An 'Iron Chef' Inspired Dish Featuring Apples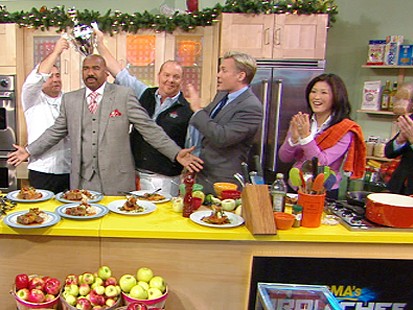 The two famous chefs reveal their final dishes using secret ingredient, apples.
From the kitchen of MARIO BATALI
Ingredients
2 tbsp. olive oil
3 yellow delicious apples, peeled and cored and sliced into thin wedges
Salt and pepper, to taste
1 tbsp. brown sugar
1 tbsp. balsamic vinegar
Cooking Directions
Over high heat, add the olive oil in a 9-inch non-stock skillet. Sauté the apples over high heat until golden brown and softened. Add the brown sugar, balsamic, salt and pepper. Set aside.
Recipe Summary
Main Ingredients: apples, balsalmic vinegar
Course: Lunch, Dinner, Side Dish