Gingerbread Tiramisu
A Semi-Homemade Holiday Treat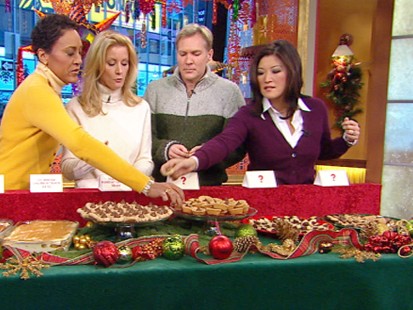 Sandra Lee explains how to prepare a great holiday dessert for cheap.
From the kitchen of Sandra Lee
Ingredients
1 (14.5-ounce) box gingerbread cake and cookie mix, Betty Crocker
2 (8-ounce) packages cream cheese, softened
1/4 cup plus 1 tablespoon confectioners' sugar, divided
2 teaspoons vanilla extract
2 cups frozen nondairy whipped topping, thawed
1/2 cup strong coffee or coffee-flavored liqueur
1 tablespoon ground cinnamon
Garnish: 1 (9.7-ounce) bar bittersweet dark chocolate
Maraschino cherries
Cooking Directions
1. Preheat oven to 350°. Spray a 15x10-inch jellyroll pan with nonstick baking spray with flour.
2. Prepare cake batter according to package directions. Pour into prepared pan. Bake for 20 minutes, or until a wooden pick inserted in center comes out clean. Let cool. Cut cake in half, forming 2 (10x71/2-inch) pieces. Cut each half lengthwise into 1-inch strips; set aside.
3. In a large bowl, beat cream cheese, 1/4 cup confectioners' sugar, and vanilla at medium-low speed with an electric mixer until smooth. Fold in whipped topping.
4. In the bottom of a 13x9-inch baking dish, arrange half of gingerbread strips in a single layer, trimming to fit, if necessary. Brush coffee or liqueur evenly over gingerbread. Spread half of cream cheese mixture over top. Layer with remaining half of gingerbread strips, trimming to fit, if necessary, and remaining cream cheese mixture. Sprinkle with cinnamon and remaining 1 tablespoon confectioners' sugar. Cover, and refrigerate overnight.
Makes 12 servings
Recipe Summary
Main Ingredients: gingerbread cake, cream cheese, confectioners' sugar
Course: Dessert, Snack
More Info: Kid Friendly