Red Cabbage Slaw
Served with Pulled Pork Sandwich Platter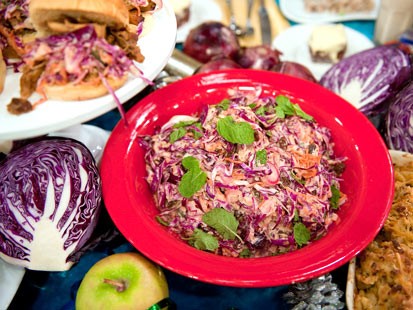 From the kitchen of Spike Mendelsohn
|
This recipe for red cabbage slaw is a perfect accompaniment for Spike Mendelsohn's pulled pork sandwich platter.
Ingredients
1 cup red wine vinegar
1/2 cup sugar
2 tablespoons whole-grain mustard
2 teaspoons ground cinnamon
1 head red cabbage, cored and shredded
1 cup dark raisins
1 cup thinly sliced red onion
1 cup pickled carrots
1 cup pickled daikon
2 green apples, cored and julienned
1 1/2 cups Mayonnaise
1 cup coarsely chopped fresh mint
Sea salt and freshly ground black pepper
Cooking Directions
In a mixing bowl, whisk together the vinegar, sugar, mustard, and cinnamon until well combined.
Add the cabbage, raisins, and onion and toss.
Fold in the carrots, daikon, apples, and mayonnaise.
Add the mint and season with salt and pepper.
Other Recipes That You Might Like