Mac 'N' Cheese
Served Muffin Style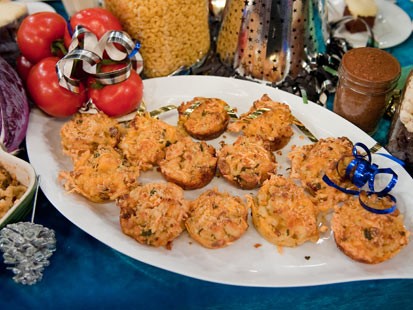 From the kitchen of Spike Mendelsohn
|
Everyone loves mac 'n' cheese. For New Year's Eve or other gatherings you want to have party friendly food, so chef Spike Mendelsohn is serving this up muffin style! Get more of Spike's great recipes from his new book, "The Good Stuff Cookbook," including his toasted marshmellow shake.
Ingredients
Butter for the baking dish
1 pound elbow macaroni
2 teaspoons sea salt
2 tablespoons extra virgin olive oil
1 cup Cheddar Cheese Sauce (CLICK HERE for the recipe)
10 strips bacon
2 cup freshly grated Parmesan cheese
1 1/2 cups panko breadcrumbs
1/2 cup minced fresh parsley
1 tablespoon minced fresh thyme
1 tablespoon minced fresh rosemary
1 teaspoon minced fresh sage
2 tablespoons freshly ground black pepper
Cooking Directions
Preheat the oven to 375 degrees F. Grease a 3-quart oven proof baking dish with butter, and set aside.
Bring water to a boil in a large saucepan over medium high heat. Add the macaroni and salt and stir to prevent sticking. Cook for 7 minutes, or until al dente. Drain and toss with the oil.
Heat the cheese sauce in a saucepan over medium heat.
In a skillet, cook the bacon over medium heat until crisp. Line a metal tray with paper towels. Drain the bacon. Chop the bacon into bits.
In a bowl, combine the bacon, parmesan, 1 cup of the breadcrumbs, the parsley, thyme, rosemary, sage, and pepper.
In a separate bowl, toss together the macaroni and heated cheese sauce, mixing well.
Stir the macaroni-cheese mixture into the breadcrumbs mixture. Spread evenly into the prepared baking dish, and sprinkle with the remaining 1/2 cup breadcrumbs.
Place the baking dish on top of a baking pan to catch spills if the cheese bubbles over. Bake for 40 minutes, or until crispy and brown on top.
Other Recipes That You Might Like