White Chocolate Frosting
The Tasty Topping to Red Velvet Brownies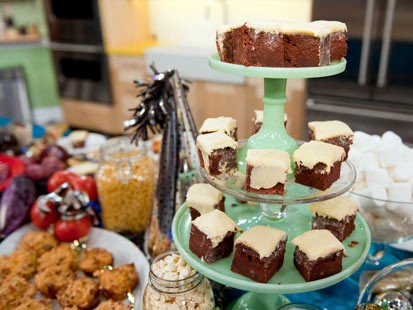 From the kitchen of Spike Mendelsohn
This delicious white chocolate frosting makes Chef Spike Mendelsohn's red velvet brownies over the top.
Ingredients
1 cup sweetened condensed milk
8 tbsp. unsalted butter
8 ounces white chocolate chips
3 large egg yolks
1 cup confectioner's sugar.
Cooking Directions
To make the frosting, heat the condensed milk, butter, and chocolate chips in a saucepan over medium heat. Cook, stirring occasionally, until the chocolate chips melt. Remove from the heat and let cool.
In a mixing bowl beat together the egg yolks and confectioners' sugar with an electric mixer until fluffy.
Add the chocolate mixture and beat until thick.
When the brownies are cool spread the frosting over the top (CLICK HERE for the recipe for Spike's red velvet brownies).
Recipe Summary
Main Ingredients: white chocolate chips, butter, confectioners' sugar
Course: Dessert