Milk Chocolate Caramel Tarte
From Eleven Madison Park to Your Dinner Table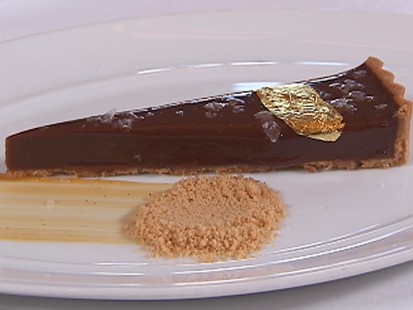 Eleven Madison Park's chef Daniel Humm delivers creamy, salted chocolate.
From the kitchen of Daniel Humm
|
Ingredients
For the sucree dough
1 cup butter
1/2 cup sugar
1/2 cup vanilla bean
1 orange, zested
1 egg
3 cups AP flour
1/4 tsp. salt
For the salted caramel
1 Cup Sugar
1/4 cup butter
1/4 cup cream
1/2 tsp. salt
For the milk chocolate ganache
18 1/4 ounces 40% Valrhona Jivara chocolate
1 1/4 cup heavy cream
1 Tbsp. glucose
Cooking Directions
Heat oven to 350°F. In standing mixer, cream butter until it lightens in color. Add sugar and continue to cream. Scrape down sides of bowl. Add seeds of vanilla bean and orange zest as well as egg. Mix thoroughly to combine. Again, be sure to scrape down sides of bowl. Combine flour and salt and add to butter mixture. Mix to combine; mixture will begin to pull away from the sides of the bowl into a ball. Wrap in plastic wrap and place in refrigerator to chill for 1 hour. Roll dough out to about 1/8" thick. Line tart shell with dough, and be sure to press firmly into corner. Dock with fork and freeze shell for about 30 minutes. Bake frozen until a dark golden brown, about 13 minutes.
In small saucepot, cook sugar to medium caramel, 335°F on a candy thermometer -- if you cook it too dark it will be to firm and chewy in the tart. Add a little cream and then a little butter, to cool down the mixture. Be careful -- this is a dangerous task; cream and butter will sizzle and spray when you first add it. Then add the remainder of the cream and butter and emulsify in. Add salt. Set aside to cool.
Bring cream and glucose just to a boil. Pour over chocolate and let stand for a minute. Mix to combine with a whisk.
Spread a thin layer of salted caramel on bottom of cooled tart shell. Next, pour ganache into tart shell, just to top. Let set in fridge. Once ready to serve, dust with cocoa powder and finish with gold leaf in the center.
Other Recipes That You Might Like