Broiled Zucchini
Healthy Side Dish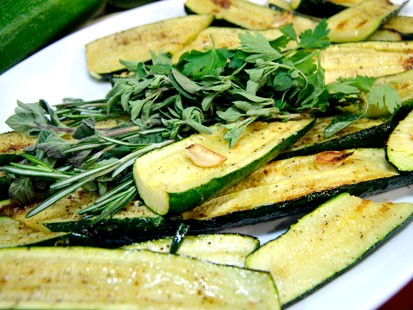 From the kitchen of Emeril Lagasse
|
This side dish is perfect for a family meal and it is easy to prepare.
Ingredients
2 pounds zucchini
4 cloves garlic
1/4 cup olive oil
1 1/2 teaspoons kosher salt
1 teaspoon freshly ground white pepper
4 sprigs fresh thyme
Cooking Directions
Position a rack 5 or 6 inches from the broiler element and preheat the broiler.
Rinse the zucchini and pat it dry. Cut the zucchini in half crosswise; then cut each half lengthwise into 6 to 8 wedges. Smash the garlic cloves, and cut each clove in half.
Place the zucchini, garlic and all the remaining ingredients in a large bowl, and toss well to coat.
Place the zucchini mixture in a 12-inch oven proof skillet, and broil, tossing the pieces occasionally, until it is well caramelized, about 15 minutes.
Remove from the broiler, discard the thyme sprigs, and serve immediately.
4 to 6 servings
Recipe courtesy Emeril Lagasse, Emeril 20-40-60, Fresh Food Fast, HarperStudio Publisher, New York, 2009, courtesy MSLO Inc.
Prep time: 5 minutes
Cook time: 15 minutes
Total: 20 minutes
Other Recipes That You Might Like