Yellowtail Ceviche
From Public Restaurant to Your Dinner Table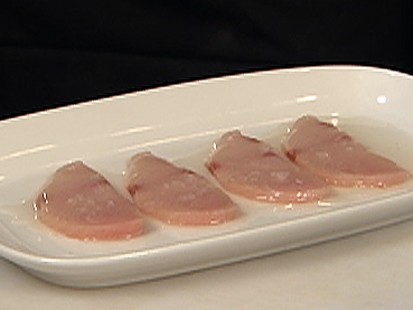 Public chef Brad Farmerie presents Aussie fish layered in texture.
From the kitchen of Brad Farmerie
|
Ingredients
For the vanilla coconut sauce
2 containers (500ml) coconut water, flesh reserved for serving
4 stalks lemongrass, chopped
1 thumb ginger, peeled and finely chopped
1 red chilli chopped
4 kaffir lime leaves, chopped
1 teaspoon toasted coriander seeds
1/2 vanilla bean, seeds removed and reserved (keep the bean to add to your sugar)
1 lime, juiced
1 leaf gelatine, soaked in cold water
to serve
600g Australian Yellowtail, bones removed, skinned and thinly sliced
Cilantro leaves, pickled
Purple shiso (optional)- substitute Thai Basil, Basil, or mint
1 red chili, thinly sliced
Reserved coconut meat from the containers of coconut water, thinly sliced
1 tablespoon wasabi tobiko
Note: this is flying fish roe; available frozen in Asian markets or your friendly neighborhood sushi shop
Cooking Directions
For the coconut sauce
Combine all the ingredients, except the gelatine, in a saucepan and place over medium heat.
Slowly bring to the boil then reduce the heat and simmer for 10 minutes to allow the flavors to infuse. Remove the mixture from the heat. Squeeze the excess water from the gelatine and add to the saucepan. Set aside until it is room temperature then strain. Refrigerate until needed.
To finish
Arrange the slices of Yellowtail on 6 cold serving plates (preferably with a rim to keep the sauce around the fish). Spoon some of the coconut vanilla sauce over the fish and garnish each slice with Thai basil, cilantro, chili, coconut slices and wasabi tobiko. Sprinkle each slice with some Maldon salt and serve chilled on a hot summer's day.
Recipe Summary
Main Ingredients: raw yellowtail, coconut, coconut water, chilis, spices, lemongrass, vanilla bean, fish eggs
Course: Appetizer/Starter, Lunch, Main Course, Side Dish, Dinner
Other Recipes That You Might Like