Emeril Lagasse's Blue Cheese Dipping Sauce
Tasty With Buffalo-Style Wings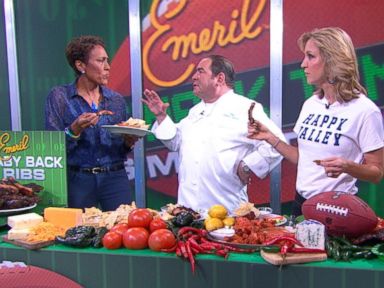 Celebrity chef Emeril Lagasse delivers his unique take on classic snacks for the big game.
From the kitchen of Emeril Lagasse
Game day is upon us and part of watching the game is eating!
Ingredients
1 cup crumbled blue cheese
1/4 cup sour cream
1/4 cup mayonnaise
1/2 cup buttermilk
1 teaspoon fresh lemon juice
1/2 teaspoon minced garlic
1/2 teaspoon salt
Freshly ground black pepper
Cooking Directions
Combine all ingredients in a small bowl and stir to combine.
Serve immediately or store, covered and refrigerated, for up to 1 week before serving.
Sauce may be made thicker by mashing some of the crumbled blue cheese against the side of the bowl. Sauce is better if allowed to sit for 1 or 2 days before serving.
Yield: about 1 1/2 cups
Recipe courtesy Emeril Lagasse, courtesy MSLO, Inc. 2010
Recipe Summary
Main Ingredients: blue cheese, sour cream, mayonnaise
Course: Appetizer/Starter, Party Platter