Marbled Chocolate Cheesecake Bars
Skinny Snacks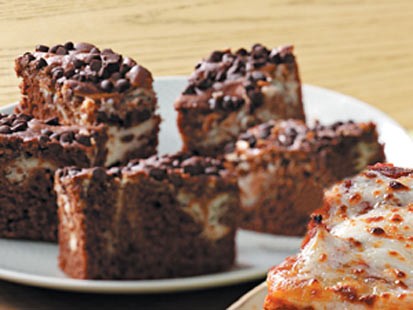 From the kitchen of Taste of Home
|
Ingredients
3/4 cup water
1/3 cup butter
1 1/2 ounces unsweetened chocolate
2 cups all-purpose flour
1 1/2 cups packed brown sugar
1 teaspoon baking soda
1/2 teaspoon salt
1 egg
1 egg white
1/2 cup reduced-fat sour cream
Cream cheese mixture:
1 package Kraft Philadelphia® Cream Cheese Light (8 ounces)
1/3 cup sugar
1 egg white
1 tablespoon vanilla extract
1 cup miniature semisweet chocolate chips (6 ounces)
Cooking Directions
In a small saucepan, combine the water, butter and chocolate. Cook and stir over low heat until melted; stir until smooth. Cool.
In a large bowl, combine the flour, brown sugar, baking soda and salt. Beat in the egg, egg white and sour cream on low speed just until combined. Beat in chocolate mixture until smooth. In another bowl, beat the cream cheese, sugar, egg white and vanilla until smooth; set aside.
Spread chocolate batter into a 15-in. x 10-in. x 1-in. baking pan coated with cooking spray. Drop the cream cheese mixture by tablespoonfuls over batter; cut through batter with a knife to swirl. Sprinkle with chocolate chips.
Bake at 375° for 20-25 minutes or until a toothpick inserted near the center comes out clean. Cool on a wire rack.
Yield: about 2 dozen.
Find all the recipes for Week One of Taste of Home's Comfort Food Diet Cookbook.
Nutritional Analysis: One bar equals 190 calories, 4 g fat (2 g saturated fat), 10 mg cholesterol, 90 mg sodium, 15 g carbohydrate, trace fiber, 2 g protein.
Diabetic Exchanges: 1 starch, 1/2 fat.
Other Recipes That You Might Like