Chunky Pecan Bars
Skinny Snacks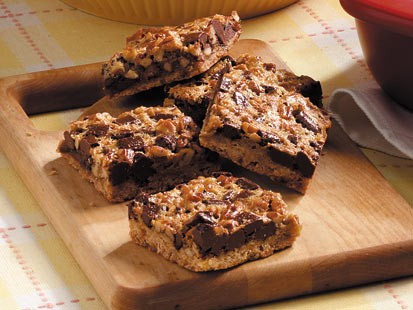 From the kitchen of Taste of Home
Ingredients
1 1/2 cups all-purpose flour
1/2 cup packed brown sugar
1/2 cup cold butter, cubed
Filling:
3 eggs
3/4 cup sugar
3/4 cup dark corn syrup
2 tablespoons butter, melted
1 teaspoon vanilla extract
1 3/4 cups semisweet chocolate chunks
1 1/2 cups coarsely chopped pecans
Cooking Directions
In a small bowl, combine the flour and brown sugar; cut in butter until crumbly. Press into a greased 13-in. x 9-in. baking pan. Bake at 350° for 10-15 minutes or until golden brown.
Meanwhile, in a large bowl, whisk the eggs, sugar, corn syrup, butter and vanilla until blended. Stir in chocolate chunks and pecans. Pour over crust.
Bake for 20-25 minutes or until set. Cool completely on a wire rack. Cut into bars. Store in an airtight container in the refrigerator.
Yield: about 3 dozen.
Find all the recipes for Week One of Taste of Home's Comfort Food Diet Cookbook.
Nutritional Analysis: 1 bar equals 176 calories, 5 g fat (2 g saturated fat), 13 mg cholesterol, 25 mg sodium, 11 g carbohydrate, 1 g fiber, 1 g protein.
Recipe Summary
Main Ingredients: brown sugar, chocolate, pecans
Course: Dessert, Snack