Sunflower Popcorn Bars
From the Comfort Food Diet Cookbook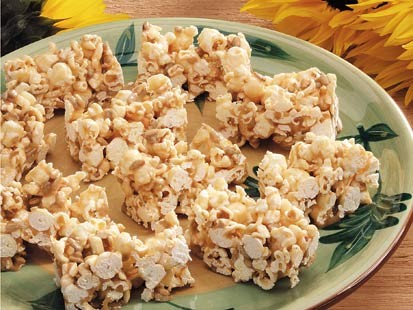 From the kitchen of Taste of Home
|
Ingredients
1 cup sugar
1/2 cup light corn syrup
1/2 cup honey
1/2 cup peanut butter
1/4 cup butter, softened
1 teaspoon vanilla extract
1 cup salted sunflower kernels
4 quarts popped popcorn
Cooking Directions
In a large saucepan over medium heat, bring the sugar, corn syrup and honey to a boil, stirring often. Boil for 2 minutes. Remove from the heat; stir in the peanut butter, butter and vanilla until smooth. Add sunflower kernels.
Place popcorn in a large bowl. Add syrup and stir to coat. Press into two greased 13-in. x 9-in. pans. Cut into bars. Store in an airtight container.
Yield: 2 dozen.
Find all the recipes for Week One of Taste of Home's Comfort Food Diet Cookbook.
Nutritional Analysis: 1 bar equals 192 calories, 5 g fat (1 g saturated fat), 3 mg cholesterol, 76 mg sodium, 13 g carbohydrate, 1 g fiber, 2 g protein.
Other Recipes That You Might Like