Zucchini Tomato Soup
From the Comfort Food Diet Cookbook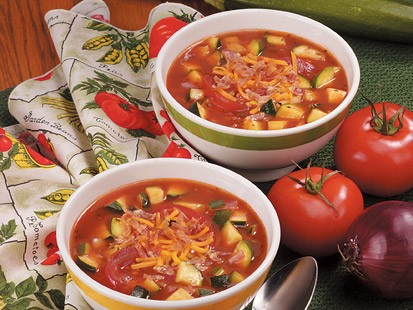 From the kitchen of Taste of Home
|
Ingredients
2 small zucchini, coarsely chopped
1/4 cup chopped red onion
1 1/2 teaspoons Crisco® Light Olive Oil or Canola Oil
1/8 teaspoon salt
1 cup spicy hot V8 juice
1 small tomato, cut into thin wedges
Dash each pepper and dried basil
2 tablespoons shredded cheddar cheese, optional
1 to 2 tablespoons crumbled cooked bacon, optional
Cooking Directions
In a large skillet, saute the zucchini and onion in oil until crisp-tender. Sprinkle with salt. Add the V8 juice, tomato, pepper and basil; cook until heated through. Sprinkle with cheese and bacon if desired
Find all the recipes for Week One of Taste of Home's Comfort Food Diet Cookbook.
Nutritional Analysis: One serving (calculated without cheese and bacon) equals 89 calories, 4 g fat (1 g saturated fat), 0 cholesterol, 545 mg sodium, 12 g carbohydrate, 3 g fiber, 3 g protein.
Diabetic Exchanges: 2 vegetable, 1/2 fat.
Other Recipes That You Might Like