Sweet 'n' Salty Popcorn
From the Comfort Food Diet Cookbook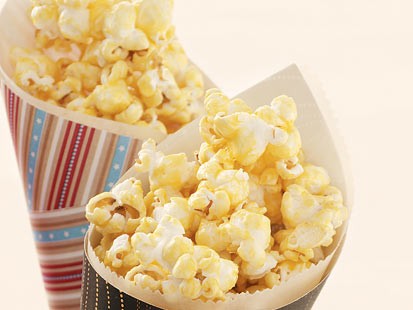 From the kitchen of Taste of Home
Ingredients
10 cups air-popped popcorn
1 tablespoon butter
5 tablespoons instant vanilla pudding mix
1/3 cup light corn syrup
1 teaspoon vanilla extract
Dash salt
Cooking Directions
Place popcorn in a large bowl. In a small microwave-safe bowl, melt butter; whisk in the pudding mix, corn syrup, vanilla and salt until smooth.
Microwave, uncovered, for 45 seconds or until bubbly. Pour over popcorn; toss to coat. Spread in a 15-in. x 10-in. x 1-in. baking pan coated with cooking spray.
Bake at 250° for 25-30 minutes or until crisp, stirring once. Remove popcorn from pan to waxed paper to cool. Break into clusters. Store in airtight containers.
Yield: 12 cups.
Find all the recipes for Week One of Taste of Home's Comfort Food Diet Cookbook.
Nutritional Analysis: 1 cup equals 76 calories, 1 g fat (1 g saturated fat), 3 mg cholesterol, 70 mg sodium, 16 g carbohydrate, 1 g fiber, 1 g protein.
Diabetic Exchanges: 1 starch.
Recipe Summary
Main Ingredients: popcorn, vanilla pudding
Course: Dessert, Snack
More Info: Kid Friendly