Cappuccino Truffles
Try a Skinny Snack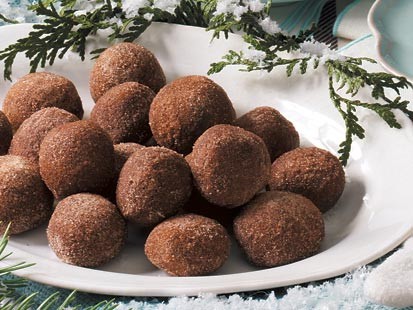 From the kitchen of Taste of Home
Ingredients
1 tablespoon boiling water
2 teaspoons instant coffee granules
2 1/2 teaspoons ground cinnamon, divided
1/3 cup heavy whipping cream
6 ounces bittersweet chocolate, chopped
2 tablespoons butter, softened
3 tablespoons sugar
Cooking Directions
In a small bowl, combine the water, coffee and 1 teaspoon cinnamon; set aside. In a small saucepan, bring cream just to a boil. Remove from the heat; whisk in chocolate and butter until smooth. Stir in coffee mixture. Press plastic wrap onto surface. Refrigerate for 1 hour or until easy to handle.
In a small bowl, combine sugar and remaining cinnamon. Shape chocolate into 1-in. balls; roll in cinnamon-sugar. Refrigerate for at least 2 hours or until firm.
Yield: about 1 1/2 dozen.
Find all the recipes for Week One of Taste of Home's Comfort Food Diet Cookbook.
Nutritional Analysis: 1 serving (1 each) equals 43 calories, 4 g fat (2 g saturated fat), 9 mg cholesterol, 15 mg sodium, 3 g carbohydrate, trace fiber, trace protein.
Recipe Summary
Main Ingredients: instant coffee, chocolate
Course: Dessert