Pichet Ong's Nutella Skillet Torte
From Village Tart To Your Dining Table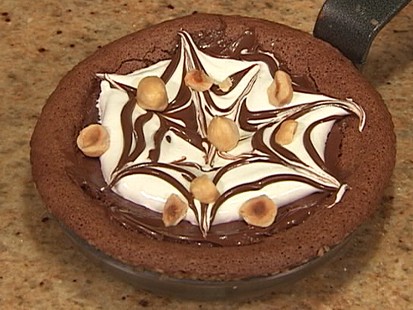 Village Tart chef Pichet Ong folds together chocolate truffles and meringue.
From the kitchen of Pichet Ong
|
Ingredients
Torte
4 eggs, separated
120 grams bittersweet chocolate
1 shot espresso or 1/4 cup strong coffee
1/2 cup sugar
1/8 teaspoon salt
2 tablespoon soft butter
2 tablespoon sugar in the raw
1/3 cup nutella
1/3 whipped cream
3 tablespoons toasted hazelnuts, roughly chopped
Cooking Directions
Nutella Torte
Melt chocolate over a double boiler, remove from heat, whisk in yolks, and coffee and let side aside until cool.
Whip whites with sugar until meringue.
Use half of meringue to lighten the chocolate mixture. Fold in the rest.
Brush generously a 9" skillet or cake mold with butter and line with sugar in the raw.
Transfer cake into the pan and bake in preheated 350 degree oven until done; top should be dry, and tester comes out clean, about 22 minutes. Let cool until room temperature.
Once cake is cooled, spread top of cake with nutella in a circle, leaving 1/2" rim on the outside. Create an inner circle with whipped cream. Take a knife and cut cake into 8 slices, cutting from inside out. Top tort with chopped hazelnuts. Refrigerate and bring to room temperature before serving.
Other Recipes That You Might Like