Seitan Piccata
From 'Chef's Table'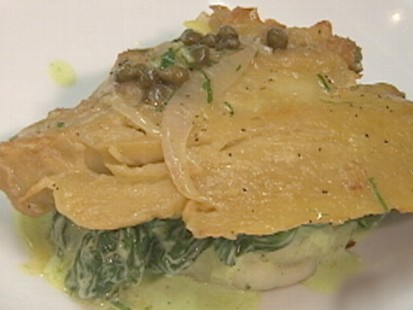 Candle 79 chef Angel Ramos prepares a hearty meal without meat.
From the kitchen of Angel Ramos
|
Ingredients
For the Seitan Piccata:
6 Seitan Cutlets, Dredge in Whole Wheat Flour
¼ C Minced Shallots
¼ C Sliced Clean Leeks
1 Tsp Salt
½ Tsp Ground Black Pepper
¼ C Olive Oil
1 TB Unbleached All Purpose Flour
¾ C White Wine
1 Bay Leaf
¼ C Capers
3 C Vegetable Stock or water
1 TB Minced Parsley
1 tsp Minced Thyme
¼ C Lemon Juice
¼ tsp Tumeric
For the Creamed Spinach:
2 pounds fresh spinach, washed and tough stems removed
2 cups silken tofu (equivalent of one block of silken tofu)
1 cup veganaise
½ teaspoon minced garlic
1 tablespoon fresh lemon juice
2 tablespoons chopped parsley
2 tablespoons olive oil
1 teaspoon sea salt
Pinch of black pepper
For the Potato Cake:
2 large Idaho potatoes (~1 ½ pounds of potatoes) – diced in small cubes
2 cups chopped white onions
2 tablespoons olive oil
¼ teaspoon salt
1 tablespoon chopped fresh parsley
Pinch black pepper
Cooking Directions
For the Seitan Piccata:
Dredge the seitan cutlets in the whole wheat flour, shaking off any excess. In a sauté pan, heat 2 tablespoons of the olive oil over high heat and sauté the cutlets until crisp and golden brown, about 30 seconds per side. Place each cutlet on individual plates or a platter.
Over medium heat, warm olive oil in a skillet.
Add shallots, leeks, salt and pepper. Sauté mixture for 5-7 minutes until soft and translucent.
Add the all purpose flour and cook until it is well combined with onion mixture, about 2 minutes. This is called a roux.
Deglaze pan with wine, stirring to incorporate the flour.
Add bay leaf, capers, stock, herbs and lemon juice. Cook mixture for about 10-15 minutes until it becomes slightly glossy.
Pour the sauce over the seitan cutlets and serve at once.
For the Creamed Spinach:
Bring a pot of salted water to a boil over high heat.
Add the spinach and cook for 2 minutes.
Drain in a fine mesh strainer, pressing with a large spoon to release as much water as possible.
Finely chop and set aside.
Place all remaining ingredients in a blender or vita mix. Blend together.
Pour mixture into a medium pot and warm over medium heat. Do not boil.
Once mixture is warm, remove from the heat, pour over the spinach, mix together and serve.
For the Potato Cake:
Bring a pot of salted water to a boil.
Add the cubed potatoes and reduce heat. Cook for ~ 10-15 minutes, or until soft.
Preheat the oven to 350 degrees
Remove the potatoes from the heat, drain the water and place the potatoes in a medium sized mixing bowl.
Heat olive oil in a small saucepan over medium-high heat. Sautee the onions in the olive oil, until soft and lightly browned.
Add the onions, along with the salt, parsley and black pepper to the potatoes.
Mix together. Scoop the potatoes with a large ice cream scoop, or your hands, and then flatten slightly on a greased sheet pan (or cookie sheet). You should have 6 – 7 potato cakes.
Bake the potato cakes at 350 for approximately 15 – 20 minutes or until lightly browned. (Note: the potato cake should be flipped at ~ 8 – 10 minutes so that they are browned on each side)
Other Recipes That You Might Like