Diane Henderiks' Mouthwatering Turkey Meatloaf
Recipe Courtesy Diane Henderiks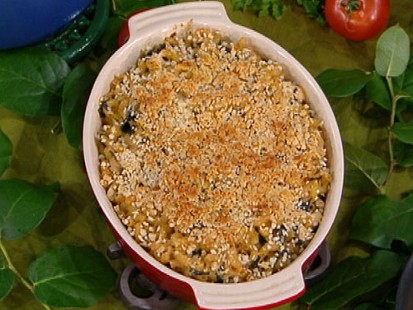 Energy-boosting dishes that are inexpensive and easy to make.
From the kitchen of Diane Henderiks
Ingredients
2 pounds lean ground turkey
1/2 cup onion, finely chopped
1/2 cup red pepper, finely chopped
1/2 cup carrots, grated
2 tablespoons ground flaxseed
1/4 cup tomato puree
1/2 cup ketchup
1/4 cup horseradish
1 tablespoon Dijon mustard
2 tablespoons Worcestershire sauce
2 egg whites
1/2 cup fresh whole wheat bread crumbs
1/4 cup Parmesan cheese, freshly grated
1 teaspoon garlic powder
1/2 teaspoon dried oregano
1/2 teaspoon salt
1/2 teaspoon dried basil
1/4 cup ketchup
1 teaspoon dried oregano
Cooking Directions
Preheat oven to 350 degrees
Combine first 17 ingredients (ground turkey through basil) in a large bowl. Mixing with your hands works best.
On a rimmed baking sheet coated with olive oil spray or non stick foil, shape mixture into an oval about 9 by 5 inches.
Poke about ten 1/2 inch deep holes in loaf with index finger.
Spread remaining ketchup over top and sides of loaf and sprinkle evenly with remaining dried oregano.
Bake about 45 minutes or until there is no pink in center
Remove from oven and let stand about 5 minutes before slicing.
Recipe Summary
Main Ingredients: ground turkey, onion, bread crumbs
Course: Dinner, Lunch, Main Course