Weddings are famously unforgettable for the betrothed and infamously hard on the wallet. With the average wedding costing upwards of $28,000, couples everywhere are looking to cut costs on their special day.
Luckily, "Good Morning America" found several ways to cut back at all stages of the wedding that can lead to thousands of dollars in savings.
Saving Green To Wear White
Think about having a Friday night wedding instead of Saturday. Many wedding venues will offer a discounted price for the less popular day.
Go for simple flower arrangements. You can still have beautiful, full flowers without spending a ton. Also, be sure to immerse the flower pieces entirely in water. It creates something of an optical illusion that makes the pieces seem larger than they are.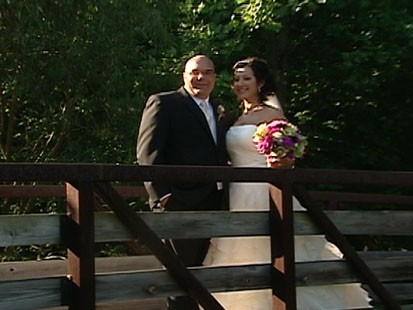 Search for deals on all the little things. Saving a little here and there on things like invitations and place cards can add up big.
Think about faking the cake. Many couples use fake wedding cakes for decoration and keep a smaller, more affordable real cake on hand for eating.
Be flexible with music. By casting a larger net and looking for deejays or acts outside your area, you can save hundreds of dollars. Also, look for bands or deejays that are just starting out. They may be willing to play for less.
Develop your own photos. You can keep the photographer, but ask him or her to give you a CD of the photos so you can print your own and only the ones you want.
Serve ethnic food during the reception. That way you can give off a bohemian vibe and cut costs at the same time.
Pick the wedding dress based on style, not on name. Often, brides can find wedding dresses very similar to some extremely expensive ones that still make them proud to be the center of attention -- without the hefty pricetag.