In a nondescript, two-story building in the shadow of the Oklahoma City airport, hundreds of students are learning how to do one of the most stressful jobs around -- that of an air traffic controller.
At the FAA Academy, as it's called, the Federal Aviation Administration is running two shifts of classes as it scrambles to fill jobs.
In the last three years, the FAA has hired 5,000 new controllers. It has plans to hire 17,000 total in a decade to make up for a wave of retirements.
About 40 percent to 50 percent of the trainees come from schools that offer degrees in air traffic control. An additional 33 percent come from the military and the rest from the general public.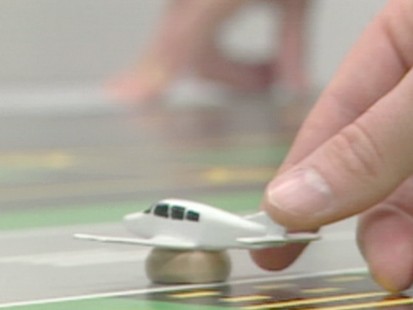 Student Matt Kirsch's father is a controller, but Kirsch was in banking until he decided to try his hand at guiding planes.
"I would think everybody would be nervous, especially coming in off the street, no background," Kirsch said. "So that's a little bit of stress. But that's part of the fun, too."
During the busiest times, controllers may guide 5,000 planes in the nation's skies. It's a job where the slightest mistake could lead to a tragedy.
The training at the FAA Academy is intense.
"You're immersed in air traffic control eight hours a day, every day," said Henry Mogilka, an air traffic division staff manager at FAA Academy.
ABC News got a behind-the-scenes look at the training.
For those who will work in the towers at the nation's airports, instruction begins in a room outfitted with what looks like a child's play set. It's a giant model airport painted on a table top. Also in the room is a fake air traffic control tower where student controllers issue instructions to other students holding and "flying" model airplanes. The planes land, take off and taxi around the model airport.
The low-tech instruction is designed to give students a feel for a busy airport and to teach them to continually look out the tower windows.
"You always have to be scanning the horizon," said student Travis Barker, "scanning to see where the planes are. You don't want to clear anybody without scanning first." There's also plenty of high-tech instruction in airport simulators. At the flip of a switch, instructors can change the simulated airport -- turning day into night, or sunshine into heavy fog or snow. Trainees, on headsets, issue directions to aircraft flying in and out of the airport.
Student Alyson Wauben said she now looks at the simulated airport very differently than when she started.
"I know all the runways, I know all the taxiways and I think in my mind, 'what am I going to do?' Trying to play my next move. What would I do if I were in the tower?"
"It does get nerve-wracking with the amount of planes," said student Jamie Cannon. "But as long as you keep your ducks in a row and keep everyone where you need to be, you're OK."
Students get classroom and simulator training for two to four months. Then, they head out to FAA air traffic control facilities for on-the-job training. That used to take up to four years, but the FAA says it's managed to cut some of that time in half, with increased use of simulators.
The push to hire more controllers means trainees now make up more than a quarter of the work force.
The controller's union, which is locked in a contract battle with the FAA, says some facilities are too short-staffed with veteran controllers and have far too many trainees.
Earlier this year, the Department of Transportation's inspector general reported that as of December 2007, 22 percent of air traffic control facilities exceeded the FAA limit for trainees.
"I wouldn't go so far as to say it's not safe," union president Pat Forrey told "Good Morning America." "I think the margin of safety has definitely decreased."
The FAA acknowledges that some facilities have had too many trainees and says it's working to try to change that. But the agency insists its recruits are top notch.
"These folks are motivated," said FAA acting administrator Robert Sturgell. "They're technology savvy and they're ready to go. And they're getting the best training out there for air traffic control. "
Instructor Chris Brannen has one main goal for his students.
"More than anything else, is confidence," Brannen said. "I want them to leave this course with all the confidence in the world -- where they can go out and be successful in the field." Rachel Klouse will need that confident attitude. She's now passed her initial course and is heading to the busy Los Angeles airport for her on-the-job training.
"I definitely believe that it will be [a challenge]," she said. "They have a very high washout rate there, so not everybody makes it."
Barker will begin at the much smaller airport tower in Corpus Christi, Texas. Before he gets there though, he's happy to have practiced with the model planes, knowing how critical it is that everything goes right.
"Here, if I mess up, it's just two kids run their hands together," he said. "So you want [to] mess up here before you go out there and mess up."