The family of the 15-year-old football player who died after collapsing during practice in August sued the coaching staff to bring awareness to hydration and heat-related illnesses so that "maybe this won't happen again," the boy's stepmother told "Good Morning America" today.
Max Gilpin collapsed from heat stroke during the Aug. 20 practice in the sweltering Kentucky heat and died three days later.
David Stinson, who was the head football coach when the incident occurred, pleaded not guilty Monday to charges of reckless homicide amid an outpouring of community support.
On Saturday, dozens of Kentucky high school students and teachers gathered at Stinson's house to show their support.
"It's a sad day. My heart is broken," Stinson told the crowd as his wife, Monica, stood by his side. "Part of my life has been taken away. I no longer teach and I no longer coach at the school I love."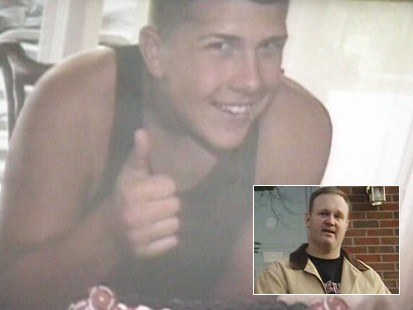 Stinson has been reassigned pending the outcome of the case, a school spokeswoman told The Associated Press.
The next day, hundreds of students and faculty from Pleasure Ridge High School gathered on the school's football field for a vigil in Stinson's honor -- one that Gilpin's stepmother, Lois Gilpin, attended.
According to her, the situation is "complicated."
"I'm really torn. It's just been so complicated. You know, when you're grieving and all the facts are just kind of rolling around and we really don't know that much yet," she said. "We want Max to make a difference. And I know this isn't going to bring him back and he's going to be missed. But we're hoping with this coverage that we can get it out to the public."
Gilpin's father, Jeff Gilpin, took a simpler standpoint.
"If they found enough criminal evidence to prosecute him, I want him to be prosecuted. I'm disappointed. Someone I trusted let my son die," he said.
Max Gilpin is one of 33 high school, college or professional athletes to die of heat-related injuries since 1995, but Stinson is the first coach to face criminal charges.
"A reasonable person should have seen that this could have happened and failed to perceive it and went on and caused it," Dave Stengel, an attorney for the Louisville Commonwealth, told "GMA."
Tragedy on the Field
On that sweltering August day when the temperature felt like 94 degrees and the team practiced for more than two hours, two players collapsed. Max Gilpin never got up.
After attempting to revive the boy with water and cold packs, assistant coach Steve Deacon called 911.
"He's overheated. We got water on him and he's responsive. He's got a big, rapid pulse," Deacon told the operator.
Jeff Gilpin was on the scene during the call.
"I had to stop being a dad," he said. "But I'm still a dad. It's just hard to quit."
When Max Gilpin was taken to the hospital minutes later, his body temperature had risen nearly 10 degrees above normal to 107.
According to athletic director Craig Webb's deposition, Max Gilpin could not speak and his eyes were two-thirds closed.
During his three days at the hospital, he never regained consciousness.
"They kept him pretty medicated so he didn't hurt, trying to make sure his body could rest and give him a chance," Lois Gilpin said. "You know, we prayed and we had hope for a couple days there that we were hoping he would pull out of it."
But Max Gilpin never came out of it and now attorneys are looking closely at his medical history.
According to statements made by his biological mother, Michele Crockett, Max Gilpin had been taking the protein supplement Creatine but had stopped when football practice started in July, as well as Adderall, which is prescribed to treat attention deficit hyperactivity disorder.
"We certainly want to know what his health conditions were because we've been charged with a homicide," Brian Butler, one of Stinson's attorneys, told the AP. "Unfortunately, we have to look into those things now."
As attorneys continue to look at the details of the case, one family and one community mourns.
"[Max] was a goofy person to be around," Lois Gilpin said. "He was extremely loving and fun and caring."
According to football booster Rodney Daugherty, Max Gilpin's parents are the only ones hurt worse than Stinson.
"I lost one of my boys, a boy that I loved and a boy that I cared for and a boy that meant the world to me," Stinson said in his emotional address Saturday. "And that's a burden that I will carry with me for the rest of my life."
"He's a guy with a heart of gold," Daugherty said. "They're dragging a very good man through the mud and I don't understand why."