Auctioning off belongings you no longer use or need is a classic American way to raise some extra money.
In Forest Hill, Md., Keith Silberg runs what he cheekily calls the Big TARP auction, after the federal bank bailout plan.
Silberg created the new auctioning business just a month after the the C-Mart retail store his family owned for nearly 30 years folded when the economy soured.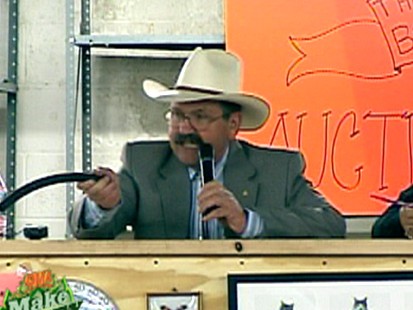 "That's why I feel confident that the country will recover, because I'm not alone in having those aspirations. There's 200 people in here. They hold within them the spirit of the recovery. Because the reality is, there's always a way to make a dollar," Silberg said.
The Big TARP auction is an absolute auction, which means there are no minimums, and everything sells.
Don and Joan Mertz made $1,000 at the auction by selling off extra collectibles they had at home.
"Clean out your attic, clean out your kitchen cupboards and everything you can," Joan Mertz said.
Don Volatile auctioned off some knick knacks he no longer needs -- all with a keen grasp of the broader scope of economics.
"Who isn't grateful for money? It could get me another dinner, so that a waitress will have a job," Volatile said. "I get auction fever myself and buy a rustic vintage shutter for $90."
Lately, grocery auctions have popped up across the country, helping consumers save big on food and other necessities, and there are opportunities to bid on foreclosed homes.
At a recent sale at Silberg's Big TARP auction, all the merchandise was gone by 9 p.m. and people's checks were on their way.
The day's sales brought in $29,000. The people who run the auction receive 20 percent of each sale, so the cumulative amount raised for the sellers was $23,000.
And that's what fast- moving, fast-talking auctions are all about -- fast money.
Click here to find auctions in your area.